AgileSoCal Monthly Meeting - Wednesday, January 25th 6:00 PM
Outputs versus Outcomes with Ben Rodilitz
When: Wednesday, January 25th (Note this is the 4th Wednesday!)
Networking and food, 6:00 PM.
Activities start, 6:30 PM.

***** Always free, but YOU MUST RSVP to agilesocal@gmail.com *****
Too often, we focus on the Outputs of our work – the "what" – and not on the desired Outcomes – the "why", the impact we want.

In our January meeting we will:
work together to recognize the differences between the two.
relate those differences to our day-to-day activities by identifying the Outcomes from our various Scrum/Kanban ceremonies and examining them through the lens of sought-after Outcomes.
share ideas on how better to line up what we are doing with the Outcomes we aim for.
A desired Outcome of this evening is to help us "break out of the box" of providing by-the-book outputs and increase team effectiveness using an Outcome-focused approach.

BONUS: within the first 5 minutes, you will learn why your smartphone is able to provide you with turn-by-turn directions and the small-but-crucial part your presenter had in making this happen. And why this has anything to do with anything.
Your Presenter:
Ben Rodilitz, CSP and PMP, just completed his 3+ year stint as Scrum Master for Vermont-based Dealer.Com's Manhattan Beach software development teams as well as Agile Coach for its parent, Cox Automotive.
After receiving his Bachelors and Masters of Engineering from UCLA, Ben dabbled in aerospace for 18 years. The first three were at TRW doing Independent Verification and Validation of government software projects. The next 15 years involved working on communication and navigation products at Magnavox Research Labs culminating with work on very early commercial GPS products.
After a decade of software development and project management consulting, Ben went back to his GPS roots with a five-year stint at chip manufacturer SiRF. This was followed by another period of consulting, focusing on start-up organizations targeting the smartphone explosion and its need for location-based applications. After finally realizing that "start-up" came from the Latin root meaning "we can't pay you", Ben began his engagement with Dealer.Com in August, 2013.

Where: The Capital Group Companies
6455 Irvine Center Drive (Yosemite Building, 1st floor)
Irvine, CA 92618
Exit the 5 or 405 at Sand Canyon.
From the 5, go south to Irvine Center and turn right.
From the 405, go north to Irvine Center and turn left.
Take the first right into the main parking lot at Capital Group.
Park (no permit needed), go to the main entrance, look for the signs.

Thanks to Capital Group (www.thecapitalgroup.com) for the meeting facilities.
Thanks to VersionOne (www.versionone.com) for food and free agile stuff.
Thanks to Mike Cohn (www.mountaingoatsoftware.com) for agile e-courses, agile books and stuff.
Thanks to JetBrains (www.jetbrains.com) for free tool licenses.

To be eligible for the drawing for free books and agile stuff YOU MUST RSVP to agilesocal@gmail.com 24 hours prior to the meeting and be present to win.

AgileSoCal is your community for all things agile. Find us:
On our website at www.agilesocal.com (You are here!)
On LinkedIn at "AgileSoCal"
On Twitter @AgileSoCal
---
Thanks to our ongoing sponsors:
---
Upcoming 2016 AgileSoCal Meetings
Meetings are usually held on the third Wednesday of each month. But not always, and dates may change, so watch for the announcements.
January 25, 2017 - Outputs versus Outcomes with Ben Rodilitz
February 15 - TBA
March 15 - Agile Coaching with Brett Palmer
April 12 - Agile Thinking with Phyllis Marbach & Laurie Buss (Note: this is the 2nd Wednesday!)
May 17 - The Agile Business Organization with Keith Montgomery
June 21 - TBA
July 19 - TBA
August 16 - TBA
September 20 - TBA
October 18 - TBA
November 15 - TBA
December - no meeting, Happy Holidays!

All meeting start with food & networking at 6:00 PM, presentation starts at 6:30 PM, raffle follows the presentation.
Would you like to speak at AgileSoCal? Or do you know someone you'd like to see? Email us at agilesocal@gmail.com
---
Past Meetings & Events
Click here for a full history of all AgileSoCal meetings.
Here's a sample from past AgileSoCal meetings. Our meetings feature experienced agilistas and cutting-edge topics, and are highly interactive and engaging. Come join us at a future meeting!


August 2016 - Managing for Happiness - Jurgen Appelo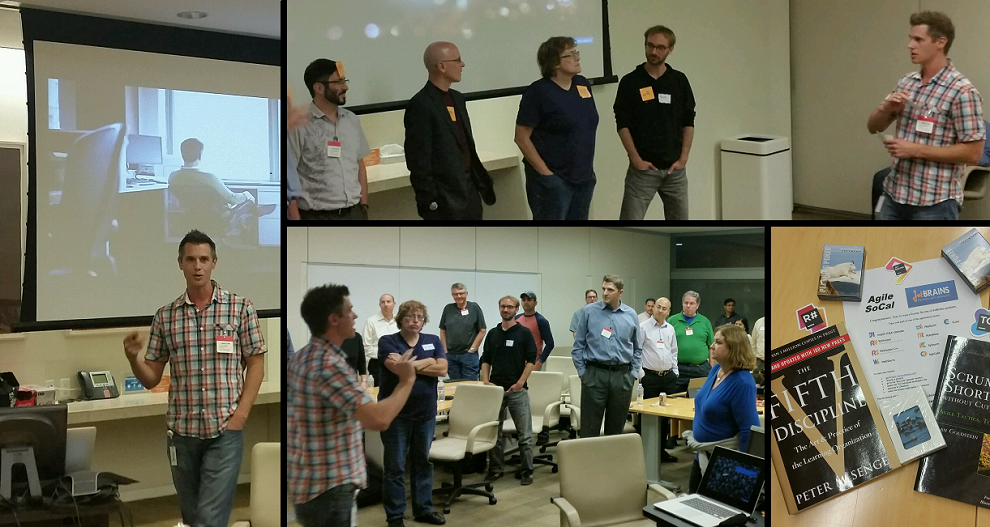 October 2016 - Agile, Systems, and the Deception of Training - Zach Bonaker
Click here for a full history of all AgileSoCal meetings.
---
Upcoming Agile Events Calendar
So Cal Local Agile Events Calendar
Tuesday, January 24, 6:30 pm
Agile Coaching Exchange
Location: San Diego, CA
More info: http://www.meetup.com/ACE-Agile-Coaching-Exchange-SoCal/
Wednesday, January 25, 7:00pm
CodeCraft meetup
Location: Westlake Village
More info: https://www.meetup.com/codecraftgroup/
Thursday, February 9, 6:30 pm
Agile San Diego - Peter Green / Coaching in the Context of Your Culture
Location: San Diego
More info: http://www.agilesandiego.org/
Saturday, February 25th, 8:30-5:00
Mob Programming Workshop with Woody Zuill
Location: San Marcos (Hunter Industries)
More info: https://www.eventbrite.com
Also watch for California Agile Meetups, OC Product Managers, PDMA, PMI OC & LA, SCQAA-OC, Java/.NET user groups, LA Agile Meetup & other MeetUps, etc. to be announced
Regional & National Agile Events Calendar
Tuesday, February 7, 7:00 pm
Extreme Programming Roundtable
Location: Santa Monica (Pivotal Labs)
More info: http://www.meetup.com/xp-los-angeles/
February 8-10
Agile Open Northwest
Location: Portland
More info: http://www.agileopennorthwest.org/

February 23-24
Agile Open San Diego
Location: San Diego, CA
More info: http://agileopencalifornia.com/san_diego.html

March 1-2
Certified Scrum Master training with Mike Cohn
Location: Costa Mesa, CA
More info https://www.mountaingoatsoftware.com/

April 10-12
Global Scrum Gathering
Location: San Diego
More info: https://www.scrumalliance.org/

April 19-21
Agile Alliance Technical Conference
Location: Boston, MA
More info: https://www.agilealliance.org/agile-alliance-technical-conference-2017/

April 28-30
Agile Coach Camp
Location: NYC
More info: https://agilecoachcampus.com/
May 4-5
Agile and Beyond
Location: Ann Arbor, MI
More info: http://www.agileandbeyond.com
June 19-21
Agile Testing Days
Location: Boston, MA
More info: https://agiletestingdays.us/

August 7-11
Agile 2017
Location: Orlando, FL
More info: https://www.agilealliance.org/agile2017/