AgileSoCal Monthly Meeting - Wednesday, March 15th 6:00 PM
When: Wednesday, March 15th
Networking and food, 6:00 PM.
Activities start, 6:30 PM.

***** Always free, but YOU MUST RSVP to agilesocal@gmail.com *****
As more companies transition traditional program and portfolios to agile, development teams find themselves in greater need for guidance and expertise in making the transition to new agile ways of working and thinking. Often times we do not have the opportunity to start over from scratch. Many times we find waterfall programs in trouble with cost & schedule overruns — and agile is suddenly "installed" to rescue us. But agile is not a silver bullet — and challenges can persist.
In this highly-interactive talk, Brett Palmer will share his experiences coaching teams, programs and portfolios in the transition to agile. After attending this presentation you will be able to:
Define agile coaching and the stances that an agile coach can take when working with teams & individuals
Explain the popular agile coaching frameworks & problems they address
Explain the different types of agile coaches and the different roles they take
Discuss the problems & challenges many agile coaches experience
Create a roadmap for increasing your own coaching competency
Your Presenter:
Brett Palmer is an Enterprise Agile Coach at Optum/UnitedHealth Group, a Fortune #6 and Global #20 organization. As part of the Optum Agile Guidance team, Brett works to provide organizational design & guidance to very large global enterprise programs & portfolios currently in transition to agile. He is a certified agile coach & facilitator, a SAFe Program Consultant, and Certified Enterprise Scrum Trainer. He is an active member of the local Orange County agile community and is a regular featured guest on the Agile Coffee Podcast.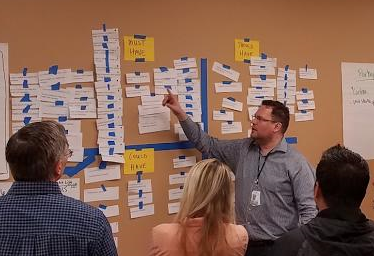 Where: The Capital Group Companies
6455 Irvine Center Drive (Yosemite Building, 1st floor)
Irvine, CA 92618

Exit the 5 or 405 at Sand Canyon.
From the 5, go south to Irvine Center and turn right.
From the 405, go north to Irvine Center and turn left.
Take the first right into the main parking lot at Capital Group.
Park (no permit needed), go to the main entrance, look for the signs.

Thanks to Capital Group (www.thecapitalgroup.com) for the meeting facilities.
Thanks to VersionOne (www.versionone.com) for food and free agile stuff.
Thanks to Mike Cohn (www.mountaingoatsoftware.com) for agile e-courses, agile books and stuff.
Thanks to JetBrains (www.jetbrains.com) for free tool licenses.
Thanks to Zensar (www.zensar.com) for educational sponsorship.

To be eligible for the drawing for free books and agile stuff YOU MUST RSVP to agilesocal@gmail.com 24 hours prior to the meeting and be present to win.

AgileSoCal is your community for all things agile. Find us:
On our website at www.agilesocal.com (You are here!)
On LinkedIn at "AgileSoCal"
On Twitter @AgileSoCal
---
Thanks to our ongoing sponsors:
---
Upcoming 2016 AgileSoCal Meetings
Meetings are usually held on the third Wednesday of each month. But not always, and dates may change, so watch for the announcements.
January 25, 2017 - Outputs versus Outcomes with Ben Rodilitz
February 15 - no meeting
March 15 - Agile Coaching with Brett Palmer
April 12 - Agile Thinking with Phyllis Marbach & Laurie Buss (Note: this is the 2nd Wednesday!)
May 17 - The Agile Business Organization with Keith Montgomery
June 14 - Actionable Agile Metrics for Predictability with Daniel Vacanti (Note: this is the 2nd Wednesday!)
July 19 - topic TBA with Vic Bonacci
August 16 - TBA
September 20 - TBA
October 18 - TBA
November 29 - TBA (Note: this is the 4th Wednesday!)
December - no meeting, Happy Holidays!

All meeting start with food & networking at 6:00 PM, presentation starts at 6:30 PM, raffle follows the presentation.
Would you like to speak at AgileSoCal? Or do you know someone you'd like to see? Email us at agilesocal@gmail.com
---
Past Meetings & Events
Click here for a full history of all AgileSoCal meetings.
Here's a sample from past AgileSoCal meetings. Our meetings feature experienced agilistas and cutting-edge topics, and are highly interactive and engaging. Come join us at a future meeting!


August 2016 - Managing for Happiness - Jurgen Appelo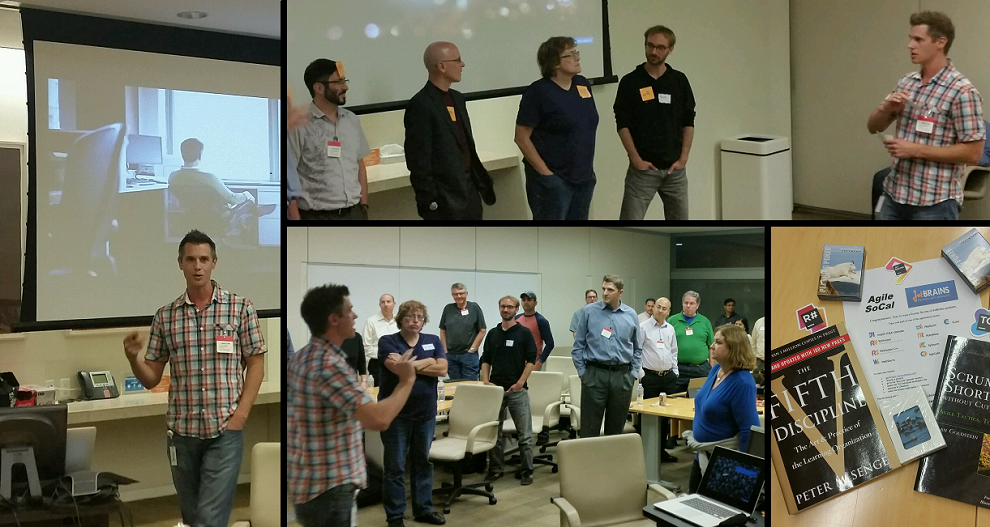 October 2016 - Agile, Systems, and the Deception of Training - Zach Bonaker
Click here for a full history of all AgileSoCal meetings.
---
Upcoming Agile Events Calendar
So Cal Local Agile Events Calendar
Tuesday, March 14, 6:30 pm
SoCal Continuous Delivery Meetup - PowerShell & DevOps
Location: Irvine
More info: https://www.meetup.com/SoCal-Continuous-Delivery-Meetup/
Wednesday, March 15, 6:30 pm
Agile Santa Barbara - Building the Team Trust Canvas with Agile Games by Paul Wynia
Location: Santa Barbara
More info: https://www.meetup.com/SB-Agile/
Tuesday, March 21, 6:30 pm
Agile Coaching Exchange - No One Does Scrum By The Book with Zach Bonaker
Location: San Diego, CA
More info: http://www.meetup.com/ACE-Agile-Coaching-Exchange-SoCal/
Wednesday, March 29, 7:00pm
Open Space micro-conference
Location: Westlake Village
More info: https://www.meetup.com/codecraftgroup/
Monday, April 3, 6:00 pm
Agile Coffee Happy Hour
Location: San Diego
More info: https://www.meetup.com/Agile-Coffee-San-Diego/

Tuesday, April 4, 7:00 pm
Extreme Programming Roundtable
Location: Santa Monica
More info: https://www.meetup.com/xp-los-angeles/

Wednesday, April 5, 6:00 pm
City of Angels Agile - Agility in the Digital World with David Lokietz
Location: Pasadena
More info: https://www.meetup.com/City-of-Angels-Agile/

Thursday, April 13, 6:30 pm
Agile San Diego - TBA
Location: San Diego
More info: http://www.agilesandiego.org/
Also watch for California Agile Meetups, OC Product Managers, PDMA, PMI OC & LA, SCQAA-OC, Java/.NET user groups, LA Agile Meetup & other MeetUps, etc. to be announced
Regional & National Agile Events Calendar
April 5-7
Certified Scrum Developer training with Rob Myers
Location: Tustin, CA
More info: https://www.eventbrite.com
April 10-12
Global Scrum Gathering
Location: San Diego
More info: https://www.scrumalliance.org/

April 19-21
Agile Alliance Technical Conference
Location: Boston, MA
More info: https://www.agilealliance.org/agile-alliance-technical-conference-2017/

April 28-30
Agile Coach Camp
Location: NYC
More info: https://agilecoachcampus.com/
May 4-5
Agile and Beyond
Location: Ann Arbor, MI
More info: http://www.agileandbeyond.com
May 25
Keep Austin Agile
Location: Austin, TX
More info: http://conference.agileaustin.org/

June 19-21
Agile Testing Days - CANCELLED
Location: Boston, MA
More info: https://agiletestingdays.us/

August 7-11
Agile 2017
Location: Orlando, FL
More info: https://www.agilealliance.org/agile2017/