AgileSoCal Monthly Meeting - Wednesday, April 12th 6:00 PM
When: Wednesday, April 12th
Networking and food, 6:00 PM.
Activities start, 6:30 PM.

***** Always free, but YOU MUST RSVP to agilesocal@gmail.com *****
Our April session describes the role of systems engineering on large-scale agile teams and the value of Six Thinking Hats™ in agile planning. Phyllis Marbach will explain what a systems engineer (SE) does in the agile construct and compare it to traditional SE tasks. Agile planning meetings benefit from the Six Thinking Hats™ method to significantly increase the group's focus and productivity.
Applying Six Thinking Hats™ to agile planning meetings results in agile thinking to identify the high priority items to work on next. You will practice using these powerful methods through a hands-on exercise.
Recommended for anyone who:
Is interested in Agile development for technical and/or programmatic applications
Wants to improve team collaboration, focus, and productivity
Wants to significantly reduce time spent in meetings at work
Your Presenter: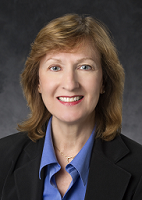 Phyllis Marbach recently retired from The Boeing Company's Defense Space and Security Division as a senior software engineer. Phyllis has over 30 years experience in aerospace programs such as satellites, chemical lasers, the International Space Station, and various propulsion systems. Phyllis was a Boeing Designated Expert in agile software development, software engineering and systems engineering. The past eight years in her role as an Agile Coach for the Boeing Enterprise, she coached Unmanned Air Systems, Radio, avionics, and research programs. Currently she is a Scaled Agile Framework™ Version 4.0 Program Consultant. Phyllis has a Master of Science degree in engineering from the University of California Los Angeles.


Where: The Capital Group Companies
6455 Irvine Center Drive (Yosemite Building, 1st floor)
Irvine, CA 92618

Exit the 5 or 405 at Sand Canyon.
From the 5, go south to Irvine Center and turn right.
From the 405, go north to Irvine Center and turn left.
Take the first right into the main parking lot at Capital Group.
Park (no permit needed), go to the main entrance, look for the signs.

Thanks to Capital Group (www.thecapitalgroup.com) for the meeting facilities.
Thanks to VersionOne (www.versionone.com) for food and free agile stuff.
Thanks to Mike Cohn (www.mountaingoatsoftware.com) for agile e-courses, agile books and stuff.
Thanks to JetBrains (www.jetbrains.com) for free tool licenses.
Thanks to Zensar (www.zensar.com) for educational sponsorship.

To be eligible for the drawing for free books and agile stuff YOU MUST RSVP to agilesocal@gmail.com 24 hours prior to the meeting and be present to win.

AgileSoCal is your community for all things agile. Find us:
On our website at www.agilesocal.com (You are here!)
On LinkedIn at "AgileSoCal"
On Twitter @AgileSoCal
---
Thanks to our ongoing sponsors:
---
Upcoming 2016 AgileSoCal Meetings
Meetings are usually held on the third Wednesday of each month. But not always, and dates may change, so watch for the announcements.
January 25, 2017 - Outputs versus Outcomes with Ben Rodilitz
February 15 - no meeting
March 15 - Agile Coaching with Brett Palmer
April 12 - Agile Thinking with Phyllis Marbach (Note: this is the 2nd Wednesday!)
May 17 - The Agile Business Organization with Keith Montgomery
June 14 - Actionable Agile Metrics for Predictability with Daniel Vacanti (Note: this is the 2nd Wednesday!)
July 19 - topic TBA with Vic Bonacci
August 16 - TBA
September 20 - TBA
October 18 - TBA
November 29 - TBA (Note: this is the 4th Wednesday!)
December - no meeting, Happy Holidays!

All meeting start with food & networking at 6:00 PM, presentation starts at 6:30 PM, raffle follows the presentation.
Would you like to speak at AgileSoCal? Or do you know someone you'd like to see? Email us at agilesocal@gmail.com
---
Past Meetings & Events
Click here for a full history of all AgileSoCal meetings.
Here's a sample from past AgileSoCal meetings. Our meetings feature experienced agilistas and cutting-edge topics, and are highly interactive and engaging. Come join us at a future meeting!


August 2016 - Managing for Happiness - Jurgen Appelo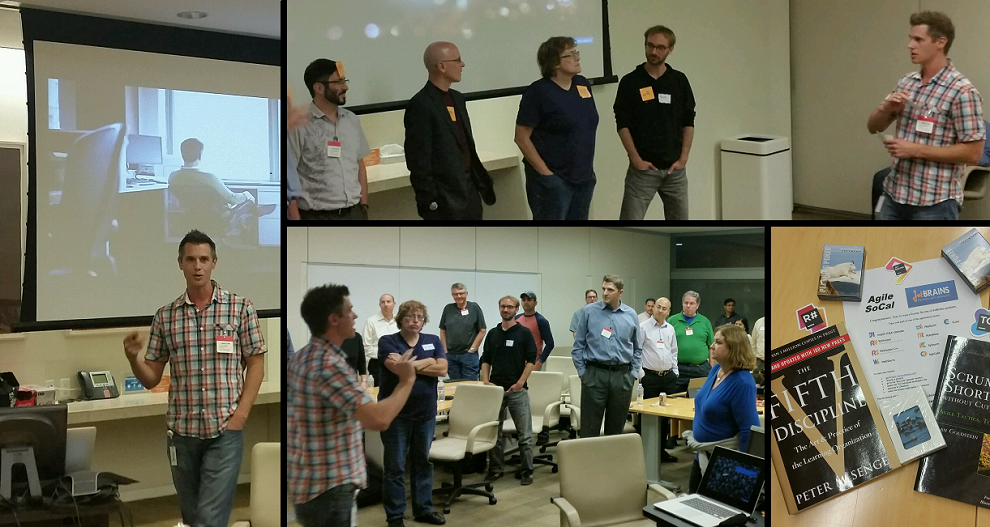 October 2016 - Agile, Systems, and the Deception of Training - Zach Bonaker
Click here for a full history of all AgileSoCal meetings.
---
Upcoming Agile Events Calendar
So Cal Local Agile Events Calendar
Tuesday, April 25, 6:30 pm
Agile Coaching Exchange - Change Your Outlook, Alter Your Outcomes
Location: TBA
More info: http://www.meetup.com/ACE-Agile-Coaching-Exchange-SoCal/
Monday, May 1, 6:00 pm
Agile Coffee Happy Hour
Location: San Diego
More info: https://www.meetup.com/Agile-Coffee-San-Diego/

Tuesday, May 2, 7:00 pm
Extreme Programming Roundtable
Location: Santa Monica
More info: https://www.meetup.com/xp-los-angeles/

Wednesday, May 3, 6:00 pm
City of Angels Agile - Business Design Agility
Location: Pasadena
More info: https://www.meetup.com/City-of-Angels-Agile/

Wednesday, May 3, 6:30 pm
Agile San Diego - Scaling Professional Scrum with Richard Hundhausen
Location: San Diego
More info: http://www.agilesandiego.org/
Tuesday, May 23, 6:30 pm
Agile Coaching Exchange - TBA
Location: Orange County
More info: http://www.meetup.com/ACE-Agile-Coaching-Exchange-SoCal/
Thursday, May 25, 6:00 pm
LA Software Craftsmanship UnConference
Location: downtown Los Angeles
More info: http://eventbrite.com/

Tuesday, May 30, 7:00 pm
Extreme Programming Roundtable
Location: Santa Monica
More info: https://www.meetup.com/xp-los-angeles/

Monday, June 5, 6:00 pm
Agile Coffee Happy Hour
Location: San Diego
More info: https://www.meetup.com/Agile-Coffee-San-Diego/

Tuesday, June 6, 6:30 pm
Agile Coaching Exchange - An Appreciative Agile Mindset
Location: Carlsbad
More info: http://www.meetup.com/ACE-Agile-Coaching-Exchange-SoCal/
Thursday, June 8, 6:30 pm
Agile San Diego - 15th Anniversary Party
Location: San Diego
More info: http://www.agilesandiego.org/
Tuesday, June 13, 6:30 pm
Agile Santa Barbara - Actionable Agile Metrics with Daniel Vacanti
Location: Santa Barbara
More info: https://www.meetup.com/SB-Agile/
Also watch for California Agile Meetups, OC Product Managers, PDMA, PMI OC & LA, SCQAA-OC, Java/.NET user groups, LA Agile Meetup & other MeetUps, etc. to be announced
Regional & National Agile Events Calendar
April 28-30
Agile Coach Camp
Location: NYC
More info: https://agilecoachcampus.com/
May 4-5
Agile and Beyond
Location: Ann Arbor, MI
More info: http://www.agileandbeyond.com
May 8-10
LeanKanban North America
Location: Washington, DC
More info: http://lkna17.leankanban.com/
May 22-23
Mile High Agile
Location: Denver, CO
More info: http://www.milehighagile.org/
May 25
Keep Austin Agile
Location: Austin, TX
More info: http://conference.agileaustin.org/

June 4-7
Better Software West
Location: Las Vegas, NV
More info: https://bscwest.techwell.com/
June 6-8
Lego Serious Play Methods Facilitator Cerification with Paul Wynia
Location: LEGOLAND (Carlsbad)
More info: https://www.eventbrite.com/
June 19-21
Agile Testing Days - CANCELLED
Location: Boston, MA
More info: https://agiletestingdays.us/

August 7-11
Agile 2017
Location: Orlando, FL
More info: https://www.agilealliance.org/agile2017/

October 1-6
STARWest
Location: Anaheim, CA
More info: https://starwest.techwell.com/