AgileSoCal Special Meeting - Thursday, October 4th 6:00 PM
Future of Testing & Quality in Agile Teams with Joel Montvelisky
When: Thursday, October 4th
Networking and food, 6:00 PM.
Activities start, 6:30 PM.

NOTE! This meeting will take place in Anaheim
There are a number of changes happening around Quality and Testing in Agile teams:
We have less testers in our teams (if at all!)
Even when we have testers, we have reduced the number of tests we run to less than a fraction what we used to test
We are releasing faster and to more people in parallel than before
etc
And still we need to make sure we do not affect Quality or Customer Happiness, as today it is easier than ever to move from one solution to another.
How can you eat your cake and keep it full at the same time? Well, there are ways and we will review them in this session by understanding how Testing and Quality is evolving as we modify the way we are working in our teams and with our products.
Your Presenter: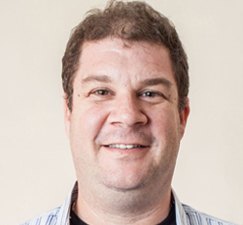 Joel Montvelisky is a Co-Founder and Chief Solution Architect at PractiTest. He has been in testing and QA since 1997, working as a tester, QA Manager and Director, and a Consultant for companies in Israel, the US and Europe. In addition to this Joel is also a blogger with the QA Intelligence Blog, and is constantly imparting webinars on a number of testing and Quality Related topics.
In addition to this, Joel is also founder and Chair of the OnlineTestConf, the first 100% online testing conference, taking place twice a year and freely available to all testers worldwide. And he is also the co-founder of the State of Testing survey and report, the longest lasting worldwide testing survey aimed at providing an understanding of the current status and trends of the global testing community.
Joel is also a conference speaker, presenting in various conferences and forums world wide, among them the Star Conferences, CAST, QA&Test, and more.
Always free, but YOU MUST RSVP at https://www.meetup.com/Agile-SoCal/

Where: Extron
1025 E Ball Rd
Anaheim, CA 92805

Thanks to Extron for the meeting facilities.
Thanks to Collabnet VersionOne for food sponsorship.
Thanks to Mike Cohn for agile courses, and Mike Cohn series books.
Thanks to Rocket Nine Solutions, our educational sponsor.
Thanks to Agile Alliance for hosting our Meetup.

To be eligible for the drawing for free books and agile stuff YOU MUST RSVP to https://www.meetup.com/Agile-SoCal/ 24 hours prior to the meeting and be present to win.

AgileSoCal is your community for all things agile. Find us:
On our website at www.agilesocal.com (You are here!)
On Meetup at "Agile-SoCal"
On LinkedIn at "AgileSoCal"
On Twitter @AgileSoCal
---
Thanks to our ongoing sponsors:
---
2018 AgileSoCal Meeting Calendar
Meetings are usually held on the third Wednesday of each month. But not always, and dates may change, so watch for the announcements.
January 17, 2018 - Six Trumps: The Brain Science that Makes Training Stick with Vic Bonacci and Chris Zarbock
February 21 - More or LeSS? The Road to the Agile Enterprise with Craig Wilson
March 21 - Using Large Scale Scrum (LeSS) for Organizational Transformation Success with Brett Palmer & Scott Dunn
April 18 - Thinking Innovation with Dr. Dave Cornelius
May 16 - How To Build Team Safety: Your Organization's Secret Superpower with Harald Koebler
June 20 - Scrum vs Kanban - How Does An Agile Team Choose? with Brett Palmer
July 18 - Coaching Heuristics: What's in Your Tookit? with Vic Bonacci
August 15 - Agile Conversations - Introduction to Nonviolent Communication with Lorraine Aguilar
September 19 - An Evening with Woody Zuill
October 4 - Future of Testing & Quality with Joel Montvelisky
October 17 - Agile HR with Ben Rodilitz
November 14 -
December - no meeting, Happy Holidays!

All meeting start with food & networking at 6:00 PM, presentation starts at 6:30 PM, raffle follows the presentation.
Would you like to speak at AgileSoCal? Or do you know someone you'd like to see? Email us at agilesocal@gmail.com
---
Past Meetings & Events
Click here for a full history of all AgileSoCal meetings.
Here's a sample from past AgileSoCal meetings. Our meetings feature experienced agilistas and cutting-edge topics, and are highly interactive and engaging. Come join us at a future meeting!


August 2016 - Managing for Happiness - Jurgen Appelo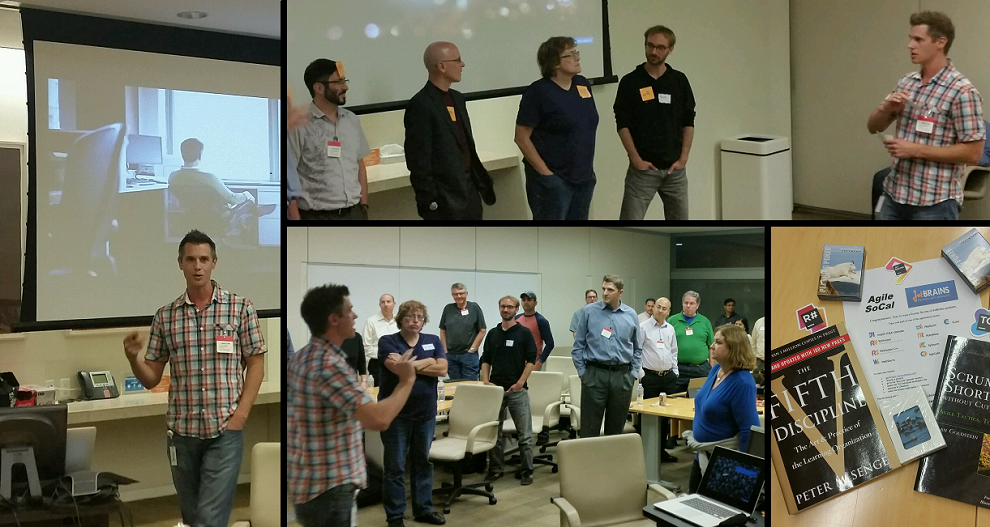 October 2016 - Agile, Systems, and the Deception of Training - Zach Bonaker
Click here for a full history of all AgileSoCal meetings.
---
Upcoming Agile Events Calendar
So Cal Local Agile Events Calendar
Wednesday, September 19, 6:00 pm
Agile SoCal - An Evening with Woody Zuill
Location: Irvine
More info: https://www.meetup.com/Agile-SoCal/

Tuesday, September 20, 6:30 pm
Agile Coaching Exchange - Coach as a Change Advocate
Location: El Segundo
More info: http://www.meetup.com/ACE-Agile-Coaching-Exchange-SoCal/
Tuesday, September 25, 7:00 pm
IIBA-OC - 7 Deadly Dysfunctions of Orgs and How to Fix Them
Location: Santa Ana
More info: http://www.iibaoc.org/

Thursday, September 27, 6:00 pm
Backlogs & Brews
Location: Rancho Cucamonga
More info: https://www.meetup.com/Backlogs-Brews-An-Agile-User-group-for-the-Inland-Empire/

Monday, October 1, 6:00 pm
Agile Coffee Happy Hour
Location: San Diego
More info: http://www.meetup.com/Agile-Coffee-San-Diego/

Thursday, October 4, 6:00 pm
Agile SoCal - Future of Testing & Quality in Agile Teams with Joel Montvelisky
Location: Anaheim
More info: https://www.meetup.com/Agile-SoCal/

Thursday, October 5, 6:00 pm
Agile Drink Up
Location: Costa Mesa
More info: https://www.meetup.com/Agile-Drink-Up/
Wednesday, October 17, 6:00 pm
Agile SoCal - Agile HR with Ben Rodilitz
Location: Irvine
More info: https://www.meetup.com/Agile-SoCal/

Wednesday, October 17, 6:00 pm
Scrum and Wine
Location: Long Beach
More info: https://www.eventbrite.com/

Thursday, October 18, 6:30 pm
Agile Coaching Exchange - Visioning Workshop
Location: Hollywood
More info: http://www.meetup.com/ACE-Agile-Coaching-Exchange-SoCal/
Monday, October 22, 6:30 pm
San Diego Agile Product Owners - Geographically Dispersed Teams
Location: San Diego
More info: https://www.meetup.com/San-Diego-Agile-Product-Owners/events/248935249/
Wednesday, October 31, 7:00 pm
CodeCraft() - Open Spaces Micro Conference
Location: Westlake Village
More info: https://www.meetup.com/codecraftgroup/
Also watch for California Agile Meetups, OC Product Managers, PDMA, PMI OC & LA, SCQAA-OC, Java/.NET user groups, LA Agile Meetup & other MeetUps, etc. to be announced
Local Agile Training
September 25-26
Certified Scrum Master training with Rocket Nine Solutions
Location: Tustin, CA
More info https://www.eventbrite.com

September 26-28
Certified Scrum Developer training with Rocket Nine Solutions
Location: Tustin, CA
More info https://www.eventbrite.com

November 13-14
Certified Scrum Master training with Mike Cohn
Location: Costa Mesa, CA
More info https://www.mountaingoatsoftware.com/

November 15-16
Certified Scrum Master training with Mike Cohn
Location: Costa Mesa, CA
More info https://www.mountaingoatsoftware.com/

Regional & National Agile Events Calendar
October 3
Agile Games West
Location: Berkeley, CA
More info: https://www.eventbrite.com/
October 4-5
Agile Open Northern California
Location: Berkeley, CA
More info: http://agileopencalifornia.com/northern_ca.html
November 16
Agile Arizona
Location: Phoenix, AZ
More info: https://agilearizona.org/

November 17
Global Day of Code Retreat
Location: worldwide!
More info: http://coderetreat.org/

March 15-16, 2019
Agile Open Arizona
Location: Tucson, AZ
More info: http://agileopenarizona.com/