AgileSoCal Monthly Meeting - Wednesday, November 15th 6:00 PM
A Lightweight Framework for Agile at Mid-Scale with Al Shalloway
When: Wednesday, November 15th
Networking and food, 6:00 PM.
Activities start, 6:30 PM.

***** Always free, but YOU MUST RSVP at https://www.meetup.com/Agile-SoCal/ *****
There currently is no well-defined public framework designed for mid-scale organizations - those with 100-500 people in the technology group. But this does not mean that you need to choose between taking a subset of a large framework or to grow your own. No one-size fits all. Large companies often benefit from an ill-fitting framework to get started. But for medium size companies, taking an out-of-the-box approach is almost never the best choice. Instead, creating clarity on what you are trying to accomplish tied to proven methods of achieving them is usually the best way to start.
By understanding what must be done to achieve agility beyond a few teams, an organization can manage their improvements in a step by step process that is tailored for their needs. The keys are visibility of all work, how to best select and sequence the value to be created, managing work in process, Acceptance Test-Driven Development and the proper organization of your teams to improve their collaboration. At our November meeting Al Shalloway discusses both the need for these as well as how they interact in order to provide the basis for your approach.
Your Presenter:
Al Shalloway is the founder and CEO of Net Objectives. With over 40 years of experience, Al is an industry thought leader in Lean, Kanban, product portfolio SPCTmanagement, SAFe, Scrum and agile design. He helps companies transition to Lean and Agile methods enterprise-wide as well teaches courses in these areas. Al is a SAFe Program Consultant. He was the co-founder of Lean Kanban University and the Lean Systems Society of which he is a former board member. Al has developed training and coaching methods for Lean-Agile that have helped Net Objectives' clients achieve long-term, sustainable productivity gains. He is a popular speaker at prestigious conferences worldwide.

Where: The Capital Group Companies
6455 Irvine Center Drive (Yosemite Building, 1st floor)
Irvine, CA 92618

Exit the 5 or 405 at Sand Canyon.
From the 5, go south to Irvine Center and turn right.
From the 405, go north to Irvine Center and turn left.
Take the first right into the main parking lot at Capital Group.
Park (no permit needed), go to the main entrance, look for the signs.

Thanks to Capital Group for the meeting facilities.
Thanks to VersionOne for food and free agile stuff.
Thanks to Mike Cohn for agile e-courses, agile books and stuff.
Thanks to JetBrains for free tool licenses.
Thanks to Zensar for educational sponsorship.
Thanks to Agile Alliance for hosting our Meetup.

To be eligible for the drawing for free books and agile stuff YOU MUST RSVP to https://www.meetup.com/Agile-SoCal/ 24 hours prior to the meeting and be present to win.

AgileSoCal is your community for all things agile. Find us:
On our website at www.agilesocal.com (You are here!)
On Meetup at "Agile-SoCal"
On LinkedIn at "AgileSoCal"
On Twitter @AgileSoCal
---
Thanks to our ongoing sponsors:
---
2017 AgileSoCal Meeting Calendar
Meetings are usually held on the third Wednesday of each month. But not always, and dates may change, so watch for the announcements.
January 25, 2017 - Outputs versus Outcomes with Ben Rodilitz
February 15 - no meeting
March 15 - Agile Coaching with Brett Palmer
April 12 - Agile Thinking with Phyllis Marbach (Note: this is the 2nd Wednesday!)
May 17 - The Agile Business Organization with Keith Montgomery
June 14 - Actionable Agile Metrics for Predictability with Daniel Vacanti (Note: this is the 2nd Wednesday!)
July 19 - Agile, Complexity and the Cynefin Lego Game with Vic Bonacci
August 16 - Why Bother Estimating? with Dave Moore
September 20 - Group Glue with Jeff Cook
October 18 - Agile Leadership for Self-Managing Teams with Kate Megaw
November 15 - A Lightweight Framework for Agile at Mid-Scale with Al Shalloway
December - no meeting, Happy Holidays!

All meeting start with food & networking at 6:00 PM, presentation starts at 6:30 PM, raffle follows the presentation.
Would you like to speak at AgileSoCal? Or do you know someone you'd like to see? Email us at agilesocal@gmail.com
---
Past Meetings & Events
Click here for a full history of all AgileSoCal meetings.
Here's a sample from past AgileSoCal meetings. Our meetings feature experienced agilistas and cutting-edge topics, and are highly interactive and engaging. Come join us at a future meeting!


August 2016 - Managing for Happiness - Jurgen Appelo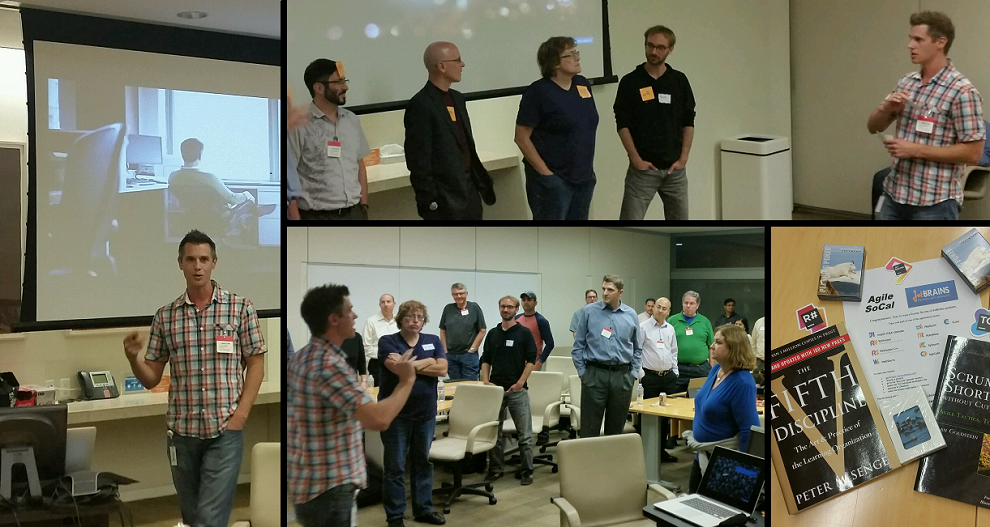 October 2016 - Agile, Systems, and the Deception of Training - Zach Bonaker
Click here for a full history of all AgileSoCal meetings.
---
Upcoming Agile Events Calendar
So Cal Local Agile Events Calendar
Wednesday, November 29, 7:00 pm
CodeCraft() - Open Spaces Micro Conference
Location: Westlake Village
More info: https://www.meetup.com/codecraftgroup/
Saturday & Sunday, December 2-3, all day
SoCal Code Camp
Location: USC
More info: SoCal Code Camp

Monday, December 4, 6:30 pm
CodeLab: Pair Programming + Open Source
Location: Fullerton
More info: https://www.meetup.com/Orange-Countys-Creative-CoWorking-Downtown-Fullerton/

Monday, December 4, 6:00 pm
Agile Coffee Happy Hour
Location: San Diego
More info: https://www.meetup.com/Agile-Coffee-San-Diego/

Tuesday, December 5, 6:00 pm
Agile Santa Barbara
Location: Santa Barbara
More info: https://www.meetup.com/SB-Agile/

Wednesday, December 6, 6:00 pm
City of Angels Agile - Technical Debt meets Lean
Location: Pasadena
More info: https://www.meetup.com/City-of-Angels-Agile/

Tuesday, POSSBILE DATE CHANGE! December 12, 6:00 pm
Agile Drink Up
Location: Huntington Beach
More info: https://www.meetup.com/Agile-Drink-Up/
Tuesday, December 12, 6:00 pm
Atlassian User Group
Location: Orange
More info https://aug.atlassian.com/

Tuesday, December 12, 7:00 pm
Extreme Programming Roundtable
Location: Santa Monica
More info: https://www.meetup.com/xp-los-angeles/

Tuesday, December 12, 6:00 pm
Scrum and Wine
Location: Long Beach
More info: https://www.eventbrite.com/

Thursday, December 14, 6:30 pm
Agile San Diego - The Zeeto Mob
Location: San Diego
More info: http://www.agilesandiego.org/

Tuesday, December 19, 6:30 pm
Agile Coaching Exchange
Location: San Diego
More info: http://www.meetup.com/ACE-Agile-Coaching-Exchange-SoCal/
Monday, January 8, 6:00 pm
Agile Coffee Happy Hour
Location: San Diego
More info: https://www.meetup.com/Agile-Coffee-San-Diego/

Tuesday, January 9, 7:00 pm
Extreme Programming Roundtable
Location: Santa Monica
More info: https://www.meetup.com/xp-los-angeles/

Thursday, January 11, 6:30 pm
Agile San Diego
Location: San Diego
More info: http://www.agilesandiego.org/

Tuesday, January 23, 6:00 pm
Agile Drink Up
Location: Huntington Beach
More info: https://www.meetup.com/Agile-Drink-Up/
Wednesday, January 31, 7:00 pm
CodeCraft() - Open Spaces Micro Conference
Location: Westlake Village
More info: https://www.meetup.com/codecraftgroup/
Also watch for California Agile Meetups, OC Product Managers, PDMA, PMI OC & LA, SCQAA-OC, Java/.NET user groups, LA Agile Meetup & other MeetUps, etc. to be announced
Regional & National Agile Events Calendar
December
Lean-Agile at Mid-Scale: FLeX Essentials
Location: online
More info: https://www.flex.netobjectives.com/ Use code FLEXSOCAL for $50 discount

January 16-17, 2018
Mike Cohn Certified ScrumMaster
Location: Costa Mesa, CA
More info: https://www.mountaingoatsoftware.com/
January 18-19, 2018
Mike Cohn Certified Product Owner
Location: Costa Mesa, CA
More info: https://www.mountaingoatsoftware.com/
February 5-7, 2018
Agile Open Northwest
Location: Seattle, WA
More info: http://www.agileopennorthwest.org/
February 15-16
Agile Open San Diego
Location: San Diego (Marina Village)
More info: https://www.eventbrite.com/
February 26-27
Lean Agile US
Location: Ft Lauderdale, FL
More info: http://leanagileus.com/
April 30 - May 2
deliver:Agile
Location: Austin, TX
More info: https://www.agilealliance.org/
June 3 - 8
Agile Dev West
Location: Las Vegas, NV
More info: https://adcwest.techwell.com
August 6-10
Agile 2018
Location: San Diego, CA
More info: https://www.agilealliance.org/agile2018/