AgileSoCal Monthly Meeting - Wednesday, Febraury 21st 6:00 PM
More or LeSS? The Road to the Agile Enterprise with Craig D. Wilson
When: Wednesday, February 21st
Networking and food, 6:00 PM.
Activities start, 6:30 PM.

Always free, but YOU MUST RSVP at https://www.meetup.com/Agile-SoCal/
While the Agile school of thought began coalescing around the turn of the century, a broader discussion of Agile at scale has only been in the public eye for the last half dozen years or so. A number of approaches have arisen including Large Scale Scrum (LeSS), FLow for Enterprise Transformation (FLEX), Disciplined Agile Delivery (DAD), Scaled Agile Framework (SAFe) just to name a few. During this presentation, Craig will discuss what it means to be an "Agile Enterprise", what it takes to get there, and some of the challenges companies may experience along the way.
Our discussion will include some of the following questions:
What are the "flavors" of agility at scale?
Which might be right for my organization?
How does corporate size and culture impact the "road to agility"?
How would Enterprise Agile impact me and my career path?
Your Presenter:
Craig D. Wilson is an Information Technology management consultant assisting organizations in more effectively managing people, projects, and processes. Before establishing his consulting practice, he spent more than a dozen years at senior and executive level IT management positions in a broad variety of industries including banking, entertainment, health care, and relocation services.
Craig can provide a broad background in project, process, and staff management experience to help with your IT management, project, and organizational challenges. Please visit the web site for additional information. For more background information and detail on services, please see the Matincor, Inc website.

Where: The Capital Group Companies
6455 Irvine Center Drive (Yosemite Building, 1st floor)
Irvine, CA 92618

Exit the 5 or 405 at Sand Canyon.
From the 5, go south to Irvine Center and turn right.
From the 405, go north to Irvine Center and turn left.
Take the first right into the main parking lot at Capital Group.
Park (no permit needed), go to the main entrance, look for the signs.

Thanks to Capital Group for the meeting facilities.
Thanks to VersionOne for food and free agile stuff.
Thanks to Mike Cohn for agile e-courses, agile books and stuff.
Thanks to JetBrains for free tool licenses.
Thanks to Zensar for educational sponsorship.
Thanks to Agile Alliance for hosting our Meetup.

To be eligible for the drawing for free books and agile stuff YOU MUST RSVP to https://www.meetup.com/Agile-SoCal/ 24 hours prior to the meeting and be present to win.

AgileSoCal is your community for all things agile. Find us:
On our website at www.agilesocal.com (You are here!)
On Meetup at "Agile-SoCal"
On LinkedIn at "AgileSoCal"
On Twitter @AgileSoCal
---
Thanks to our ongoing sponsors:
---
2018 AgileSoCal Meeting Calendar
Meetings are usually held on the third Wednesday of each month. But not always, and dates may change, so watch for the announcements.
January 17, 2018 - Six Trumps: The Brain Science that Makes Training Stick with Vic Bonacci and Chris Zarbock
February 21 - More or LeSS? The Road to the Agile Enterprise with Craig Wilson
March 21 - Using Large Scale Scrum (LeSS) for Organizational Transformation Success with Brett Palmer & Scott Dunn
April 18 - Thinking Innovation with Dr. Dave Cornelius
May 16 -
June 20 -
July 18 -
August 15 -
September 19 -
October 17 -
November 14 -
December - no meeting, Happy Holidays!

All meeting start with food & networking at 6:00 PM, presentation starts at 6:30 PM, raffle follows the presentation.
Would you like to speak at AgileSoCal? Or do you know someone you'd like to see? Email us at agilesocal@gmail.com
---
Past Meetings & Events
Click here for a full history of all AgileSoCal meetings.
Here's a sample from past AgileSoCal meetings. Our meetings feature experienced agilistas and cutting-edge topics, and are highly interactive and engaging. Come join us at a future meeting!


August 2016 - Managing for Happiness - Jurgen Appelo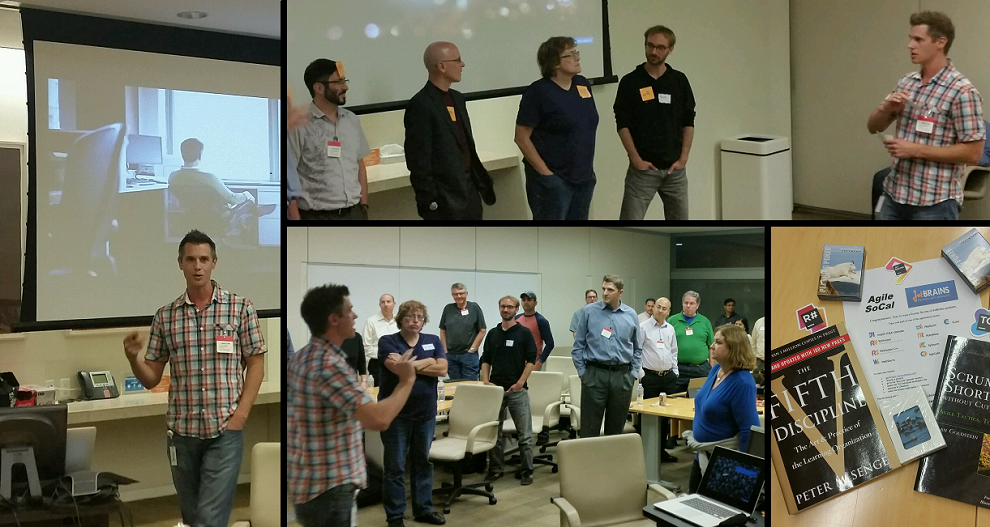 October 2016 - Agile, Systems, and the Deception of Training - Zach Bonaker
Click here for a full history of all AgileSoCal meetings.
---
Upcoming Agile Events Calendar
So Cal Local Agile Events Calendar
Wednesday, February 20, 6:30 pm
Mob Programming - Filming with Woody
Location: DTLA
More info: https://www.meetup.com/LA-Software-Craftsmanship

Wednesday, February 21, 6:30 pm
Agile SoCal
Location: Irvine
More info: https://www.meetup.com/Agile-SoCal/

Wednesday, February 21, 6:30 pm
Fullstack Open Source
Location: downtown Los Angeles
More info: https://www.meetup.com/la-fullstack/

Tuesday, February 22, 6:00 pm
Agile Drink Up
Location: Costa Mesa
More info: https://www.meetup.com/Agile-Drink-Up/
Monday, February 26, 6:00 pm
SCQAA - Test Automation
Location: Irvine
More info: http://www.scqaa.com/
Monday, February 26, 6:30 pm
CodeLab: Pair Programming + Open Source
Location: Fullerton
More info: https://www.meetup.com/Orange-Countys-Creative-CoWorking-Downtown-Fullerton/

Tuesday, February 27, 6:30 pm
Agile Coaching Exchange
Location: TBA
More info: http://www.meetup.com/ACE-Agile-Coaching-Exchange-SoCal/
Wednesday, Febraury 28, 6:00 pm
Lean Coffee
Location: El Segundo
More info: https://www.meetup.com/Los-Angeles-Scrum-Meetup/

Wednesday, February 28, 7:00 pm
CodeCraft() - Open Spaces Micro Conference
Location: Westlake Village
More info: https://www.meetup.com/codecraftgroup/
Monday, March 5, 6:00 pm
Agile Coffee Happy Hour
Location: San Diego
More info: http://www.meetup.com/Agile-Coffee-San-Diego/

Tuesday, March 6, 7:00 pm
Extreme Programming Roundtable
Location: Santa Monica
More info: https://www.meetup.com/xp-los-angeles/

Wednesday, March 7, 6:30 pm
Fullstack Open Source
Location: Santa Monica
More info: https://www.meetup.com/la-fullstack/

Tuesday, March 13, 6:00 pm
Scrum and Wine
Location: Long Beach
More info: https://www.eventbrite.com/

Wednesday, March 21, 6:30 pm
Agile SoCal
Location: Irvine
More info: https://www.meetup.com/Agile-SoCal/

Thursday, March 22, 6:30 pm
Agile San Diego
Location: San Diego
More info: https://www.meetup.com/AgileSanDiego/

Wednesday, March 28, 7:00 pm
CodeCraft() - Open Spaces Micro Conference
Location: Westlake Village
More info: https://www.meetup.com/codecraftgroup/
Thursday, March 29, 6:00 pm
Agile Drink Up
Location: Costa Mesa
More info: https://www.meetup.com/Agile-Drink-Up/
Also watch for California Agile Meetups, OC Product Managers, PDMA, PMI OC & LA, SCQAA-OC, Java/.NET user groups, LA Agile Meetup & other MeetUps, etc. to be announced
Regional & National Agile Events Calendar
February 26-27
Lean Agile US
Location: Ft Lauderdale, FL
More info: http://leanagileus.com/
April 9-11
Agile Games 2018
Location: Burlington, MA
More info: Agile Games New England
April 12-13
Mob Programming 2018
Location: Burlington, MA
More info: Mob Programming 2018
April 16-18
Global Scrum Gathering
Location: Minneapolis, MN
More info: https://www.scrumalliance.org/sgmsp

April 30 - May 2
deliver:Agile
Location: Austin, TX
More info: https://www.agilealliance.org/
May 7-8
Certified Scrum Master training with Mike Cohn
Location: Costa Mesa, CA
More info https://www.mountaingoatsoftware.com/

May 9-10
Certified Scrum Product Owner training with Mike Cohn
Location: Costa Mesa, CA
More info https://www.mountaingoatsoftware.com/

June 3 - 8
Agile Dev West
Location: Las Vegas, NV
More info: https://adcwest.techwell.com
August 6-10
Agile 2018
Location: San Diego, CA
More info: https://www.agilealliance.org/agile2018/

September 13-14
LeSS Conference 2018
Location: New York, NY
More info: https://less.works/less-conferences/2018-new-york/index.html