AgileSoCal Meeting - Wednesday, June 12th 6:00 PM
When: Wednesday, Jun 12th
Networking and food, 6:00 PM.
Activities start, 6:30 PM.

The Invisible Leader: Facilitation Secrets for Catalyzing Change, Cultivating Innovation, and Commanding Results
Do you ever attend agile ceremonies or meetings and the room is just stuck?
Or what about times that you're asking your teams questions in a meeting and you get crickets?
In this session, we'll cover three ways to shift these dynamics.

At this month's meeting Elena Astilleros will cover how to:
Set Context - This tool alone can help you totally transform the way your teams participate and relate to your ceremonies.
Prime Guests - Get your ceremonies started long before you actually gather.
Make it Theirs - So you don't have to carry the weight of the ceremony on your back.
Our session will be mostly experiential so that you can immediately apply these tools in your next ceremony.
Your Presenter: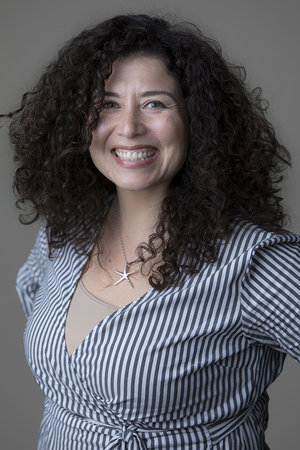 Elena Astilleros coaches people who hate wasting their time with badly run agile ceremonies, meetings, or projects. She gives them tools to get more out of their time while sprinkling in a little enthusiasm and cheerleading. You can find some of her tools in the forthcoming book Invisible Leader.

You can link with Elena Astilleros on LinkedIn and follow on Twitter @ElenaAstilleros
Always free, but you must RSVP at https://www.meetup.com/Agile-SoCal/

Where: The Capital Group Companies
6455 Irvine Center Drive (Yosemite Building, 1st floor)
Irvine, CA 92618

Exit the 5 or 405 at Sand Canyon.
From the 5, go south to Irvine Center and turn right.
From the 405, go north to Irvine Center and turn left.
Take the first right into the main parking lot at Capital Group.
Park (no permit needed), go to the main entrance, look for the signs.

Thanks to Capital Group for the meeting facilities.
Thanks to Collabnet VersionOne for food sponsorship.
Thanks to Mike Cohn for agile courses, and Mike Cohn series books.
Thanks to Rocket Nine Solutions, our educational sponsor.
Thanks to Agile Alliance for hosting our Meetup.

To be eligible for the drawing for free books and agile stuff YOU MUST RSVP to https://www.meetup.com/Agile-SoCal/ 24 hours prior to the meeting and be present to win.

AgileSoCal is your community for all things agile. Find us:
On our website at www.agilesocal.com (You are here!)
On Meetup at "Agile-SoCal"
On LinkedIn at "AgileSoCal"
On Twitter @AgileSoCal
---
Thanks to our ongoing sponsors:
---
2019 AgileSoCal Meeting Calendar
Meetings are usually held on the third Wednesday of each month. But not always, and dates may change, so watch for the announcements.
January 16 - Design Sprint 101 and Lightning Decision workshop with Jason LaManque
February 20 - Driving Teams Where the Rubber Meets the Roadmap with Steve Dempsen
March 20 - Plotting Your Agile Journey with Paul Moore
April 24 - Agile Ramp-up Strategies for Developers and their Teams with Ian Carroll
May 15 - Journey from Chaos to Harmony with Hadi Tajvar
June 12 - The Invisible Leader with Elena Astilleros
July 17 - topic TBA with Cody Fletcher
August 28 - topic TBA with William Getz
September 11 - Enterprise Agile Transformation at Pacific Life
October 16
November 20
December - no meeting, Happy Holidays!

All meeting start with food & networking at 6:00 PM, presentation starts at 6:30 PM, raffle follows the presentation.
Would you like to speak at AgileSoCal? Or do you know someone you'd like to see? Email us at agilesocal@gmail.com
---
Past Meetings & Events
Click here for a full history of all AgileSoCal meetings.
Here's a sample from past AgileSoCal meetings. Our meetings feature experienced agilistas and cutting-edge topics, and are highly interactive and engaging. Come join us at a future meeting!


August 2016 - Managing for Happiness - Jurgen Appelo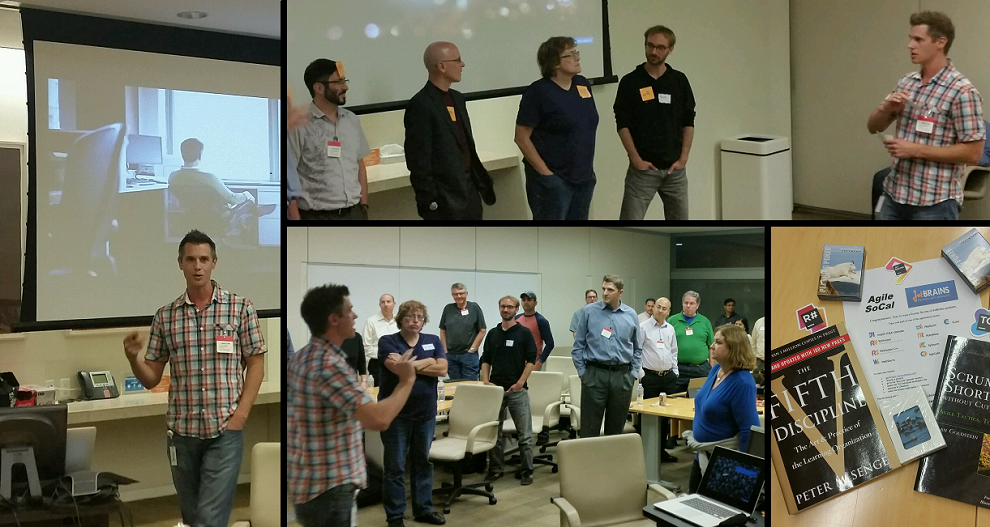 October 2016 - Agile, Systems, and the Deception of Training - Zach Bonaker
Click here for a full history of all AgileSoCal meetings.
---
Upcoming Agile Events Calendar
So Cal Local Agile Events Calendar
Tuesday, June 25, 6:30 pm
Lean Coffee with Vic Bonacci
Location: Irvine
More info https://www.meetup.com/agile-coffee/

Tuesday, June 25, 6:30 pm
OC Atlassian User Group
Location: Irvine/Blizzard
More info https://aug.atlassian.com/

Tuesday, June 25, 6:30 pm
PolyGlot.LA - All Around UX
Location: DTLA
More info: https://www.meetup.com/PolyglotLA
Tuesday, June 25, 5:30 pm
HyperVelocity Agile Meetups - Agile @ Scale with Jira
Location: DTLA
More info: https://www.meetup.com/HyperVelocity-Agile-Meetups/
Tuesday, June 25, 6:30 pm
Agile Coaching Exchange - The Business of Agile Coaching III
Location: San Diego
More info: https://www.meetup.com/ACE-Agile-Coaching-Exchange-SoCal/

Wednesday, June 26, 6:30 pm
Agile Coaching Exchange - Pair Coaching Practice
Location: El Segundo
More info: https://www.meetup.com/ACE-Agile-Coaching-Exchange-SoCal/

Wednesday, June 26, 6:00 pm
Design Sprints in La La Land
Location: Downtown LA
More info: https://www.meetup.com/Design-Sprints-La-La-Land

Wednesday, June 26, 7:00 pm
CodeCraft() - Open Spaces Micro Conference
Location: Westlake Village
More info: https://www.meetup.com/codecraftgroup/
Thursday, June 27, 6:00 pm
Agile Drink Up
Location: Irvine
More info: https://www.meetup.com/Agile-Drink-Up/
Thursday, June 27, 6:30 pm
Backlogs & Brews
Location: Rancho Cucamonga
More info: https://www.meetup.com/Backlogs-Brews-An-Agile-User-group-for-the-Inland-Empire/

Monday, July 1, 6:00 pm
LA SW Craftsmanship - Taming Change with Chris Holland
Location: Santa Monica
More info: https://www.meetup.com/LA-Software-Craftsmanship

Monday, July 1, 6:00 pm
Agile Coffee Happy Hour
Location: San Diego
More info: http://www.meetup.com/Agile-Coffee-San-Diego/

Tuesday, July 9, 6:00 pm
DevOps & Hops
Location: Irvine
More info https://www.eventbrite.com/

Tuesday, July 9, 6:30 pm
Lean Coffee with Vic Bonacci
Location: Irvine
More info https://www.meetup.com/agile-coffee/

Wednesday, July 10, 6:00 pm
Scrum and Wine
Location: Santa Monica
More info: https://www.meetup.com/Scrum-and-Wine/

Tuesday, July 16, 6:00 pm
LA Agile - Agile Transformation: What's in it for me?
Location: Pasadena
More info: https://www.meetup.com/LAAgile

Wednesday, July 17, 6:00 pm
Agile SoCal - Topic TBA with Cody Fletcher
Location: Irvine
More info: https://www.meetup.com/Agile-SoCal/

Wednesday, July 17, 6:30 pm
City of Angels Agile - Self-Care for Servant Leaders
Location: Pasadena
More info: https://www.meetup.com/City-of-Angels-Agile/

Wednesday, July 17, 6:30 pm
Agile Coaching Exchange - Self-Care for Servant Leaders
Location: El Segundo
More info: https://www.meetup.com/ACE-Agile-Coaching-Exchange-SoCal/

Thursday, July 25, 5:30 pm
LA Agile Book Club - Turn The Ship Around
Location: remote - Zoom
More info: https://www.meetup.com/LA-Agile-Book-Club/

Friday, July 26, 6:00 pm
Test Automation Meetup
Location: Santa Monica
More info: https://www.meetup.com/Los-Angeles-Software-Testing-Meetup

Wednesday, August 14, 6:00 pm
Scrum and Wine
Location: Long Beach
More info: https://www.meetup.com/Scrum-and-Wine/

Also watch for California Agile Meetups, OC Product Managers, PDMA, PMI OC & LA, SCQAA-OC, Java/.NET user groups, LA Agile Meetup & other MeetUps, etc. to be announced
Local Agile Training
June 20-21
Agile at Scale, Inspired by Spotify with Joakim Sunden
Location: Tustin, CA
More info: https://www.eventbrite.com
August 12-13
Certified Scrum Master training with Mike Cohn
Location: Costa Mesa, CA
More info https://www.mountaingoatsoftware.com/

August 14-15
Certified Scrum Product Owner training with Mike Cohn
Location: Costa Mesa, CA
More info: https://www.mountaingoatsoftware.com/

August 14-15
Certified Agile Leadership (CAL-I) with Rocket Nine Solutions
Location: Tustin, CA
More info: https://www.eventbrite.com
September 23-25
Certified Scrum Developer training with Rocket Nine Solutions
Location: Tustin
More info: https://www.eventbrite.com

Regional & National Agile Events Calendar
June 23-27
Agile Testing Days
Location:Chicago, IL
More info: https://agiletestingdays.us/
August 2-4
Agile Coach Camp
Location: Washington DC
More info: https://agilecoachcamp.net/
August 5-9
Agile 2019
Location: Washington D.C.
More info: https://www.agilealliance.org/agile2019/

September 9-10
Agile Open SoCal
Location: Irvine (UCI)
More info: http://agileopencalifornia.com/southern_ca.html

October 9
Agile Games West
Location: Berkeley, CA
More info: https://www.eventbrite.com/