AgileSoCal Monthly Meeting - Wednesday, May 17th 6:00 PM
When: Wednesday, May 17th
Networking and food, 6:00 PM.
Activities start, 6:30 PM.

***** Always free, but YOU MUST RSVP to agilesocal@gmail.com *****
Business Agile using the Sustainable Disruption Management Framework™
What happens when Agile and Lean Systems Thinking are applied to Business Agile (with or without IT)? Can you even have Agile without IT? What are the ingredients to working with the issues that transformations bring? What is governance? What is voice dialogue and how can it help people and teams thrive in disruption?
Our intention is to create a safe space and shine a light on difficult topics in order to address some of the issues people often gloss over, or deny, when working with others. For those who are willing, we will invite you to take some emotional journeys in this month's meeting through exercises.
By the end of the this session you should have an understanding of Business Agile Principles, the emotional journey that comes with change, and the concept of disruption and how it impacts us.
This session is focused on a specific part of the Sustainable Disruption Management Framework™ (SDMF™) that supports the emotional journey individuals, teams, project managers, coaches, and business managers are on. The goal is to help people thrive in a world of increasing uncertainty.
Your Presenter: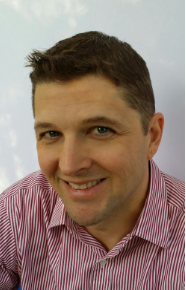 Keith Montgomery is currently a Principal with CyberOi, a business transformation consultancy. The Oi stands for Organizational Intelligence, which is a key component in making systems work at CyberOi.
With experience at several Fortune 500 companies as well as being a founder of companies in the Cloud and Analytics industries, Keith brings a unique blend of entrepreneurial spirit with a grounding in balanced governance.
Keith's contribution and value is based upon a unique approach to solving problems. By employing a mathematician's and linguist's mind to business problems, he's able to effortlessly walk between different worlds and bridge gaps via country & business cultures, project teams, business divisions, and vendors.
Keith has planned and executed business transformations, cloudifications, company turnarounds, and business performance improvements globally. His deep expertise creating bridges and common communication standards with teams and companies in the US, China, Germany, Netherlands, and Italy, allows him to identify which areas to focus on in order to bring the team to a sustainable state of performance.
On his free time, he sits on the Leadership Council of the 5 Saturdays Program. This program allows high-school students to quickly learn Agile and Lean in order to help them thrive in the modern world. 5 Saturdays transforms one student at a time in order to create a better and safer community.

Where: The Capital Group Companies
6455 Irvine Center Drive (Yosemite Building, 1st floor)
Irvine, CA 92618

Exit the 5 or 405 at Sand Canyon.
From the 5, go south to Irvine Center and turn right.
From the 405, go north to Irvine Center and turn left.
Take the first right into the main parking lot at Capital Group.
Park (no permit needed), go to the main entrance, look for the signs.

Thanks to Capital Group (www.thecapitalgroup.com) for the meeting facilities.
Thanks to VersionOne (www.versionone.com) for food and free agile stuff.
Thanks to Mike Cohn (www.mountaingoatsoftware.com) for agile e-courses, agile books and stuff.
Thanks to JetBrains (www.jetbrains.com) for free tool licenses.
Thanks to Zensar (www.zensar.com) for educational sponsorship.

To be eligible for the drawing for free books and agile stuff YOU MUST RSVP to agilesocal@gmail.com 24 hours prior to the meeting and be present to win.

AgileSoCal is your community for all things agile. Find us:
On our website at www.agilesocal.com (You are here!)
On LinkedIn at "AgileSoCal"
On Twitter @AgileSoCal
---
Thanks to our ongoing sponsors:
---
2017 AgileSoCal Meeting Calendar
Meetings are usually held on the third Wednesday of each month. But not always, and dates may change, so watch for the announcements.
January 25, 2017 - Outputs versus Outcomes with Ben Rodilitz
February 15 - no meeting
March 15 - Agile Coaching with Brett Palmer
April 12 - Agile Thinking with Phyllis Marbach (Note: this is the 2nd Wednesday!)
May 17 - The Agile Business Organization with Keith Montgomery
June 14 - Actionable Agile Metrics for Predictability with Daniel Vacanti (Note: this is the 2nd Wednesday!)
July 19 - Cynefin Lego Game with Vic Bonacci
August 16 - TBA
September 20 - TBA
October 18 - TBA
November 29 - TBA (Note: this is the 4th Wednesday!)
December - no meeting, Happy Holidays!

All meeting start with food & networking at 6:00 PM, presentation starts at 6:30 PM, raffle follows the presentation.
Would you like to speak at AgileSoCal? Or do you know someone you'd like to see? Email us at agilesocal@gmail.com
---
Past Meetings & Events
Click here for a full history of all AgileSoCal meetings.
Here's a sample from past AgileSoCal meetings. Our meetings feature experienced agilistas and cutting-edge topics, and are highly interactive and engaging. Come join us at a future meeting!


August 2016 - Managing for Happiness - Jurgen Appelo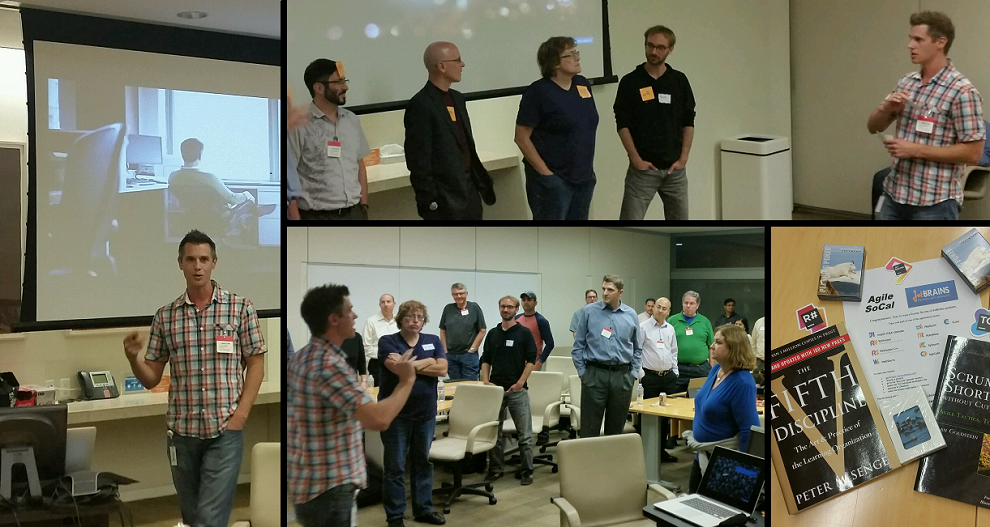 October 2016 - Agile, Systems, and the Deception of Training - Zach Bonaker
Click here for a full history of all AgileSoCal meetings.
---
Upcoming Agile Events Calendar
So Cal Local Agile Events Calendar
CANCELLED - Thursday, May 25, 6:00 pm
LA Software Craftsmanship UnConference
Location: downtown Los Angeles
More info: http://eventbrite.com/

Tuesday, May 30, 7:00 pm
Extreme Programming Roundtable
Location: Santa Monica
More info: https://www.meetup.com/xp-los-angeles/

Thursday, June 1, 6:30 pm
Lean Coffee
Location: Tustin
More info: https://www.meetup.com/agile-coffee

Monday, June 5, 6:00 pm
Agile Coffee Happy Hour
Location: San Diego
More info: https://www.meetup.com/Agile-Coffee-San-Diego/

Tuesday, June 6, 6:30 pm
Agile Coaching Exchange - An Appreciative Agile Mindset
Location: Carlsbad
More info: http://www.meetup.com/ACE-Agile-Coaching-Exchange-SoCal/
Thursday, June 8, 6:30 pm
Agile San Diego - 15th Anniversary Party
Location: San Diego
More info: http://www.agilesandiego.org/
Tuesday, June 13, 6:30 pm
Lean Coffee
Location: Tustin
More info: https://www.meetup.com/agile-coffee

Tuesday, June 13, 6:30 pm
Agile Santa Barbara - Actionable Agile Metrics with Daniel Vacanti
Location: Santa Barbara
More info: https://www.meetup.com/SB-Agile/
Tuesday, June 27, 6:00 pm
Agile Drink Up
Location: Huntington Beach
More info: https://www.meetup.com/Agile-Drink-Up/
Tuesday, June 27, 7:00 pm
Extreme Programming Roundtable
Location: Santa Monica
More info: https://www.meetup.com/xp-los-angeles/

Also watch for California Agile Meetups, OC Product Managers, PDMA, PMI OC & LA, SCQAA-OC, Java/.NET user groups, LA Agile Meetup & other MeetUps, etc. to be announced
Regional & National Agile Events Calendar
May 25
Keep Austin Agile
Location: Austin, TX
More info: http://conference.agileaustin.org/

June 4-7
Better Software West
Location: Las Vegas, NV
More info: https://bscwest.techwell.com/
June 6-8
Lego Serious Play Methods Facilitator Cerification with Paul Wynia
Location: LEGOLAND (Carlsbad)
More info: https://www.eventbrite.com/
June 19-21
CANCELLED - Agile Testing Days
Location: Boston, MA
More info: https://agiletestingdays.us/

August 7-11
Agile 2017
Location: Orlando, FL
More info: https://www.agilealliance.org/agile2017/

August 28-29
Certified Scrum Master training with Mike Cohn
Location: Costa Mesa, CA
More info https://www.mountaingoatsoftware.com/

August 30-31
Certified Scrum Product Owner training with Mike Cohn
Location: Costa Mesa, CA
More info https://www.mountaingoatsoftware.com/

September 7-8
Agile Open Southern California
Location: Irvine (UCI)
More info: http://www.agileopencalifornia.com/southern_ca.html
October 1-6
STARWest
Location: Anaheim, CA
More info: https://starwest.techwell.com/
October 27
SCNA - Software Craftsmanship North America
Location: Los Angeles, CA
More info: https://scna.softwarecraftsmanship.org/