AgileSoCal Monthly Meeting - Wednesday, September 20th 6:00 PM
When: Wednesday, September 20th
Networking and food, 6:00 PM.
Activities start, 6:30 PM.

***** Always free, but YOU MUST RSVP at https://www.meetup.com/Agile-SoCal/ *****
CREATING A TEAM – Sometimes All You Need Is A Little Glue
Have you ever been in your daily or weekly team meeting and thought to yourself, "Does this guy next to me really give a rip about what we are try to accomplish as a team?" Or, "If I threw in a few 'meows' in the middle of my discussion, would anyone even notice? Would they laugh?" Or, the worst one, "Why can't everyone on this team just get along?"
I think we all have asked these questions from time-to-time — some of the times are with new teams and some of the times we are working with teams that have been together for a long time and they have just become numb to the daily grind. In all cases these behaviors result in poor motivation, infighting, slow innovation, friction and tension, and in general, just not good places that we want to work.
During this session we will discover some of the causes of these problems and the impact on the individuals, the team, and the organization. Then we'll explore how questions can help bring teams together and change the vibe of any group situation. You'll walk away with a great technique to evolve your team from tolerate to collaborate.
Your Presenter:
Jeff Cook has been leading teams for nearly two decades with companies such as John Deere, FTD, and Constellation Software. In his various leadership roles Jeff has used questions to create a binding element within his teams, which has built more authentic relationships. As author of the book, Group Glue, Jeff brings stories and experiences of how these "question experiences" can evolve your team from "tolerate" to "collaborate". Jeff's latest adventure is with VersionOne as the Director of Support Services.

Where: The Capital Group Companies
6455 Irvine Center Drive (Yosemite Building, 1st floor)
Irvine, CA 92618

Exit the 5 or 405 at Sand Canyon.
From the 5, go south to Irvine Center and turn right.
From the 405, go north to Irvine Center and turn left.
Take the first right into the main parking lot at Capital Group.
Park (no permit needed), go to the main entrance, look for the signs.

Thanks to Capital Group for the meeting facilities.
Thanks to VersionOne for food and free agile stuff.
Thanks to Mike Cohn for agile e-courses, agile books and stuff.
Thanks to JetBrains for free tool licenses.
Thanks to Zensar for educational sponsorship.
Thanks to Agile Alliance for hosting our Meetup.

To be eligible for the drawing for free books and agile stuff YOU MUST RSVP to https://www.meetup.com/Agile-SoCal/ 24 hours prior to the meeting and be present to win.

AgileSoCal is your community for all things agile. Find us:
On our website at www.agilesocal.com (You are here!)
On Meetup at "Agile-SoCal"
On LinkedIn at "AgileSoCal"
On Twitter @AgileSoCal
---
Thanks to our ongoing sponsors:
---
2017 AgileSoCal Meeting Calendar
Meetings are usually held on the third Wednesday of each month. But not always, and dates may change, so watch for the announcements.
January 25, 2017 - Outputs versus Outcomes with Ben Rodilitz
February 15 - no meeting
March 15 - Agile Coaching with Brett Palmer
April 12 - Agile Thinking with Phyllis Marbach (Note: this is the 2nd Wednesday!)
May 17 - The Agile Business Organization with Keith Montgomery
June 14 - Actionable Agile Metrics for Predictability with Daniel Vacanti (Note: this is the 2nd Wednesday!)
July 19 - Agile, Complexity and the Cynefin Lego Game with Vic Bonacci
August 16 - Why Bother Estimating? with Dave Moore
September 20 - Group Glue with Jeff Cook
October 18 - Agile Leadership for Self-Managing Teams with Kate Megaw
November 15 - TBA
December - no meeting, Happy Holidays!

All meeting start with food & networking at 6:00 PM, presentation starts at 6:30 PM, raffle follows the presentation.
Would you like to speak at AgileSoCal? Or do you know someone you'd like to see? Email us at agilesocal@gmail.com
---
Past Meetings & Events
Click here for a full history of all AgileSoCal meetings.
Here's a sample from past AgileSoCal meetings. Our meetings feature experienced agilistas and cutting-edge topics, and are highly interactive and engaging. Come join us at a future meeting!


August 2016 - Managing for Happiness - Jurgen Appelo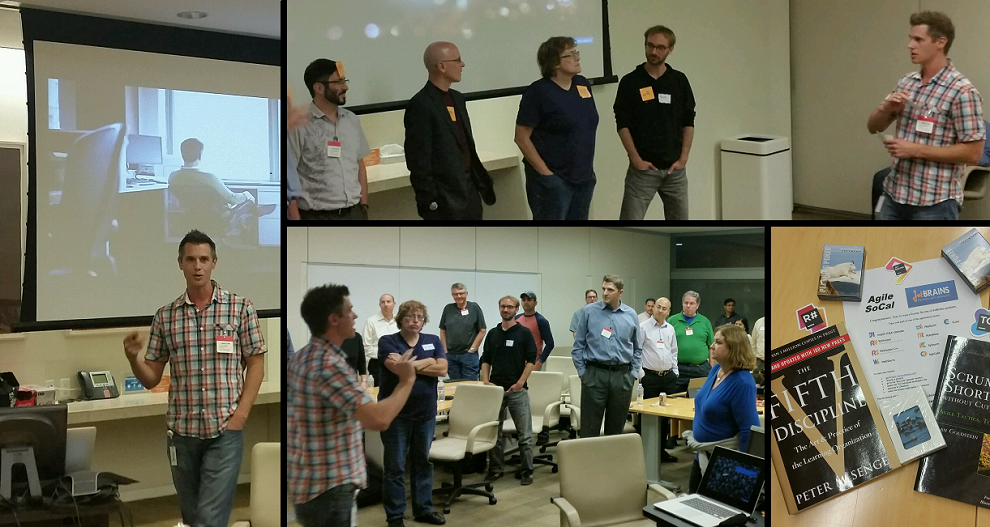 October 2016 - Agile, Systems, and the Deception of Training - Zach Bonaker
Click here for a full history of all AgileSoCal meetings.
---
Upcoming Agile Events Calendar
So Cal Local Agile Events Calendar
Tuesday, September 19, 7:00 pm
Agile Coaching Exchange
Location: Pasadena
More info: http://www.meetup.com/ACE-Agile-Coaching-Exchange-SoCal/
Tuesday, September 19, 7:00 pm
Extreme Programming Roundtable
Location: Santa Monica
More info: https://www.meetup.com/xp-los-angeles/

Wednesday, October 4, 6:30 pm
Fullstack Open Source
Location: Downtown LA
More info: https://www.meetup.com/la-fullstack/
Tuesday, October 10, 6:00 pm
Scrum and Wine
Location: Long Beach
More info: https://www.eventbrite.com/

Thursday, October 12, 6:30 pm
Agile San Diego
Location: San Diego
More info: https://www.meetup.com/AgileSanDiego/
Tuesday, October 17, 7:00 pm
Extreme Programming Roundtable
Location: Santa Monica
More info: https://www.meetup.com/xp-los-angeles/

Tuesday, October 24, 6:00 pm
Agile Drink Up
Location: Huntington Beach
Location: Huntington Beach
More info: https://www.meetup.com/Agile-Drink-Up/
Tuesday, October 24, 6:30 pm
Agile Coaching Exchange
Location: TBA
More info: http://www.meetup.com/ACE-Agile-Coaching-Exchange-SoCal/
Wednesday, October 25, 7:00 pm
CodeCraft() - Open Space Micro Conference
Location: Westlake Village
More info: https://www.meetup.com/codecraftgroup/
Also watch for California Agile Meetups, OC Product Managers, PDMA, PMI OC & LA, SCQAA-OC, Java/.NET user groups, LA Agile Meetup & other MeetUps, etc. to be announced
Regional & National Agile Events Calendar
September 7-8
Agile Open Southern California
Location: Irvine (UCI)
More info: http://www.agileopencalifornia.com/southern_ca.html
September 15
Agile Coaching Summit
Location: Chicago, IL
More info: https://www.eventbrite.com/
September 25
Agile Camp New York
Location: Newark, NJ
More info: http://agilecamp.org/new-york-metro
October 1-6
STARWest
Location: Anaheim, CA
More info: https://starwest.techwell.com/
October 3
One day Jump into LEGO® SERIOUS PLAY®
Location: Carlsbad, CA
More info: https://octjumplsp.eventbrite.com
October 3-5
LEGO® SERIOUS PLAY® Facilitator Certification
Location: Carlsbad, CA
More info: https://octlspcert.eventbrite.com
October 3-4
Agile Open NorCal
Location: Berkeley, CA
More info: http://agileopencalifornia.com/northern_ca.html
October 9
SoCal Agile Leadership Summit
Location: Anaheim, CA
More info: https://www.eventbrite.com/
October 12-13
Agile Arizona
Location: Chandler, AZ
More info: https://agilearizona.org/
October 13
ScrumPalooza
Location: Burbank, CA
More info: https://www.eventbrite.com/
October 13
Spike Day San Diego
Location: San Diego, CA
More info: https://www.eventbrite.com/
October 27
SCNA - Software Craftsmanship North America
Location: Los Angeles, CA
More info: https://scna.softwarecraftsmanship.org/
November 18
Global Day of Code Retreat
Location: worldwide - local site TBA
More info: http://gdcr.coderetreat.org/
February 5-7, 2018
Agile Open Northwest
Location: Seattle, WA
More info: http://www.agileopennorthwest.org/
February 26-27
Lean Agile US
Location: Ft Lauderdale, FL
More info: http://leanagileus.com/
April 30 - May 2
deliver:Agile
Location: Austin, TX
More info: https://www.agilealliance.org/
August 6-10
Agile 2018
Location: San Diego, CA
More info: https://www.agilealliance.org/agile2018/