AgileSoCal Meeting - Wednesday, July 19th, 5:00 PM Pacific
POSTPONED - stay tuned for our rescheduled date.
Crossing the Chasm: From Scrum master to Agile Coach with Michael Wollin and Scott Forgey

As agile coaches we all like to train up the teams and create internal coaches so that we can leave. Michael Wollin and Scott Forgey have figured out a few things to prevent those newly minted coaches from falling on their faces as they exit.
In this month's session they will discuss the breadth and depth of that journey, and present a high-level pathway to team and enterprise coaching. They will address the full spectrum of attendees, from novice and junior to very senior, and anticipate that everyone will learn something new.
Your Presenters: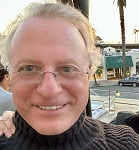 Michael Wollin is a Scrum Alliance (CEC) Certified Enterprise Agile Coach (one of only 130 in the world) with decades of experience in the IT, Medical Device, and Broadcast Television industries. He works with business and academic clients to accelerate human and organizational potential. Leveraging his business acumen and his deep technical, human, and organizational skills, he helps companies respond faster and more effectively to change in the marketplace. He offers experiential training workshops and on-site embedded coaching to clients seeking new ways to organize themselves so they can adapt quickly and painlessly to change and deal effectively with unanticipated constraints.
Michael has led in the agile space for over 23 years.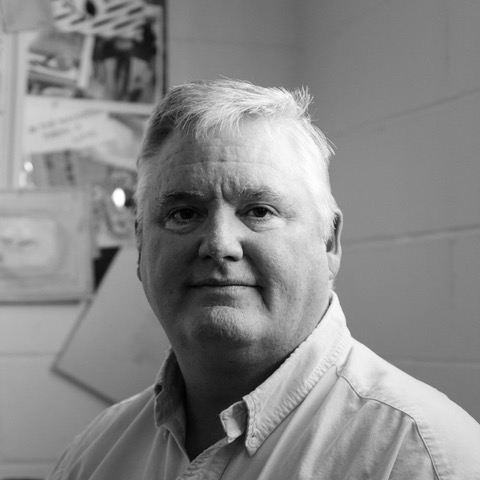 Scott Forgey is an Enterprise Agile Coach with experience in both large scale agile transformations (PayPal, eBay) and startups such as Henry, Orchid, CTS Software, etc. As a trial lawyer leading a civil rights practice, he tried over 200 jury and bench trials, mastering the art of persuasive speaking. As a Leadership Coach and Trainer, Scott designed and led transformational programs for over 100,000 people all over the world. For 20 years, he trained and coached thousands of program leaders in the art of persuasive presentations and Socratic and interactive dialogues, and was responsible for their training, development, results and effectiveness world-wide. He currently coaches top Executive and Agile Coaches, executives and managers from all fields, including award-winning architects and designers, Oscar- and Tony-winning actors, opera singers, Grammy-winning musicians and composers, and athletes from the NBA and NFL.
Always free, but you must RSVP at https://www.meetup.com/Agile-SoCal/

Where: YOUR COMPUTER!
We're meeting on-line this month. Link provided when you RSVP.
When: POSTPONED Wednesday, July 19th, 5:00 PM.

Thanks to Rocket Nine Solutions our Zoom sponsor.
Thanks to Agile Alliance for hosting our Meetup.

AgileSoCal is your community for all things agile. Find us:
On our website at www.agilesocal.com (You are here!)
On Meetup at "Agile-SoCal"
On LinkedIn at "AgileSoCal"
On Twitter @AgileSoCal
---
Thanks to our ongoing sponsors:
---
2021 AgileSoCal Meeting Calendar
Meetings are usually held on the third Wednesday of each month. But not always, and dates may change, so watch for the announcements.
January 20 - no meeting
February 17 - FAST Agile with Ron Quartel
March 17 - Visualizing Flow with Kanban: Beyond the Basics with Van Wray
April 21 - Scaling the Product Owner with James Lang
May 19 - The Leader Within with Louria Lindauer
June 16 - Culture and Agile Transformation with Marc Danziger and Pete Turner
July 21 - Agile Fluency with Michael Tardiff
August 18 - no meeting
September 15 -no meeting
October 20 - no meeting
November 17 -
December - no meeting, Happy Holidays!

All meeting start with food & networking at 6:00 PM, presentation starts at 6:30 PM, raffle follows the presentation.
Would you like to speak at AgileSoCal? Or do you know someone you'd like to see? Email us at agilesocal@gmail.com
---
Past Meetings & Events
Click here for a full history of all AgileSoCal meetings.
Here's a sample from past AgileSoCal meetings. Our meetings feature experienced agilistas and cutting-edge topics, and are highly interactive and engaging. Come join us at a future meeting!


August 2016 - Managing for Happiness - Jurgen Appelo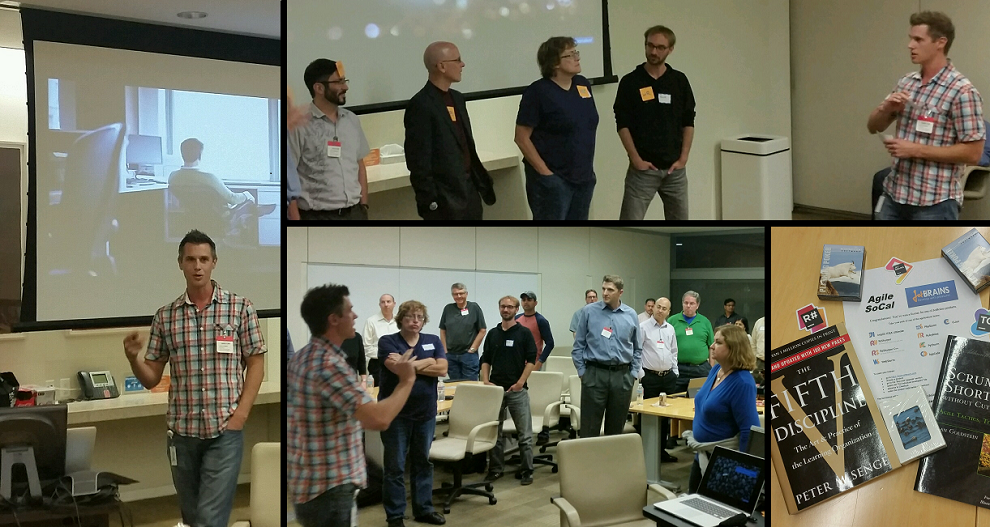 October 2016 - Agile, Systems, and the Deception of Training - Zach Bonaker
Click here for a full history of all AgileSoCal meetings.
---
Upcoming Agile Events Calendar
SoCal Local & Virtual Agile groups
Bay Area Agile Leadership Network
Agile Coaching Exchange London

Agile SoCal is part of the Agile Alliance Community
More great groups are listed at the Scrum Alliance User Groups
Also watch for OC Product Managers, PDMA, PMI OC & PMI LA, Java / .NET user groups, & other Agile MeetUps
November 10-11
Certified Scrum Developer with Paul Moore / Rocket Nine Solutions
Location: Virtual / on-line

November 17
Certified Agile Leadership Teams with Scott Dunn / Rocket Nine Solutions
Location: Virtual / on-line

November 29-30
Certified Scrum Product Owner with Rocket Nine Solutions
Location: Virtual / on-line

December 2-3
Certified ScrumMaster with Vic Bonacci / Rocket Nine Solutions
Location: Virtual / on-line

These dates don't fit your schedule? Check out the full list of Rocket Nine Solutions courses.
October 3-8
STARWEST
Location: Anaheim / Virtual
More info: https://starwest.techwell.com/

October 21-22
Lean Agile Exchange
Location: Virtual
More info: https://www.leanagileexchange.net/

Ocotber 22
Agile Open California
Location: Walnut Creek, CA
More info: https://www.eventbrite.com/

October 25-27
Agile Online Summit 2021
Location: Virtual
More info: https://agileonlinesummit.shop/

June 5-8, 2022
Global Scrum Gathering Denver
Location: Denver, CO
More info: https://resources.scrumalliance.org/