AgileSoCal Meeting - Wednesday, November 11th 6:00 PM
Let's Stop Calling It an Agile "Transformation" with Ben Rodilitz

We constantly refer to our engagements as "Agile Transformations", the term connoting a starting point, a process, and an end state. But how often do we have the luxury of starting fresh, instituting an end-to-end program with clearly-defined exit criteria? More likely, it's been variations on the theme "We've tried (are trying) agile – it doesn't work here."
At our November virtual meeting Ben Rodilitz will take us through his experiences with enterprises such as AT&T, Chevron, Google, and the military (Space Force), examining common elements of their agile journeys as well as unique components. He will discuss what worked, what didn't, and ways forward – all with an eye away from a monolithic predetermined plan and toward "meeting them where they are."
Your Presenter:
Ben Rodilitz, Certified Scrum Professional and PMP, started his agile journey teaching Patterns of Problem Solving at UCLA. After a short detour (30 years) of software development and traditional project management positions in aerospace, financial and navigation companies, Ben started facilitating software development/delivery using Agile/Scrum in 2009 and has not looked back. His recent experience includes coaching at Dealer.Com, Teradata, AT&T/DirecTV, Chevron, and Google. Along the way, Ben has incorporated elements of Scrum, Kanban, SAFe, LeSS, Training from the BACK of the Room, and Path to Agility.
Ben is currently an Agile Coach with Stellar Solutions working on a project with Space Force. Ben has been a featured speaker/panelist at numerous PMI and Agile gatherings and is excited to be back at Agile SoCal.
Always free, but you must RSVP at https://www.meetup.com/Agile-SoCal/

Where: YOUR COMPUTER!
We're meeting on-line this month. Link provided when you RSVP.
When: Wednesday, November 11th
6:00 PM.

Thanks to Rocket Nine Solutions our Zoom sponsor.
Thanks to Agile Alliance for hosting our Meetup.

AgileSoCal is your community for all things agile. Find us:
On our website at www.agilesocal.com (You are here!)
On Meetup at "Agile-SoCal"
On LinkedIn at "AgileSoCal"
On Twitter @AgileSoCal
---
Thanks to our ongoing sponsors:
---
2020 AgileSoCal Meeting Calendar
Meetings are usually held on the third Wednesday of each month. But not always, and dates may change, so watch for the announcements.
January 15 - Agile Metrics in Jira with Dan Moran
February 19 - Agile Mindset Workshop with Janet Lawrence
March 18 - no meeting
April 22 - The Life of a Mob Programmer with Thomas Desmond
May 20 - A SAFe Skeptic's Journey with Larry Lawhead
June 17 - no meeting
July 15 - Scaling Lean Agile Metrics Across Your Software Company with Heidi Helfand and Tim Doherty
August 19 - Software and the Art of Delivery with David Neal
September 16 - no meeting
October 21 - The Power of Inceptions with Lakshmi Ramaseshan
November 11 - Let's Stop Calling It an Agile "Transformation" with Ben Rodilitz
December - no meeting, Happy Holidays!

All meeting start with food & networking at 6:00 PM, presentation starts at 6:30 PM, raffle follows the presentation.
Would you like to speak at AgileSoCal? Or do you know someone you'd like to see? Email us at agilesocal@gmail.com
---
Past Meetings & Events
Click here for a full history of all AgileSoCal meetings.
Here's a sample from past AgileSoCal meetings. Our meetings feature experienced agilistas and cutting-edge topics, and are highly interactive and engaging. Come join us at a future meeting!


August 2016 - Managing for Happiness - Jurgen Appelo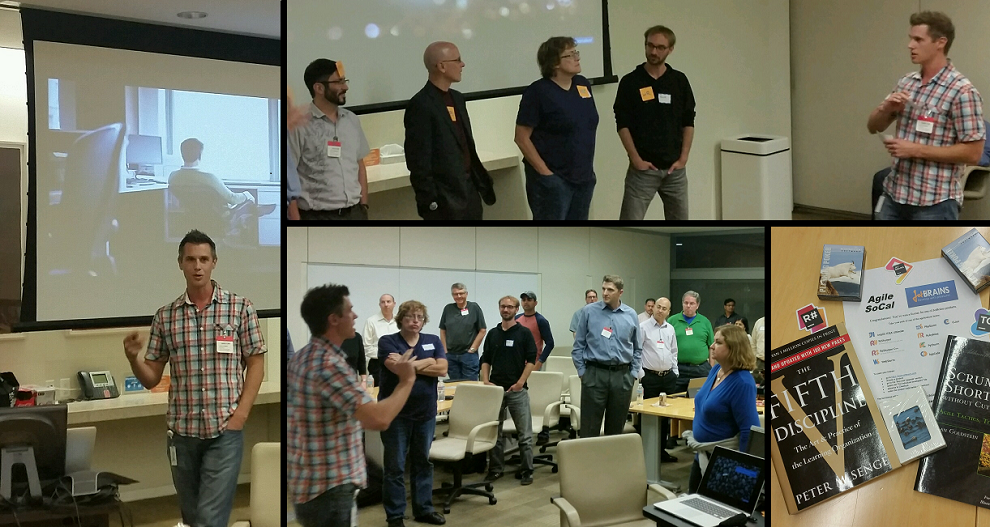 October 2016 - Agile, Systems, and the Deception of Training - Zach Bonaker
Click here for a full history of all AgileSoCal meetings.
---
Upcoming Agile Events Calendar
SoCal Local & Virtual Agile Events Calendar
Wednesday, November 11, 10:00 am
Lean Agile Glasgow - Networks, Serendipity and the Flow of Ideas
Location: Virtual
More info: https://www.meetup.com/Lean-Agile-Glasgow/

Wednesday, November 11, 6:00 pm
Agile SoCal - Let's Stop Calling It an Agile "Transformation" with Ben Rodilitz
Location: Virtual / OC
More info: https://www.meetup.com/Agile-SoCal/

Wednesday, November 11, 6:00 pm
Scrum & Wine
Location: Virtual / Santa Monica
More info: https://www.meetup.com/Scrum-and-Wine
Tuesday, November 17, 4:30 pm
Agile Colorado Springs - Authentic Leadership
Location: Virtual
More info: https://www.meetup.com/Agile-Colorado-Springs
Tuesday, November 17, 6:00 pm
Kanban SoCal - Kanban Simulation Game
Location: Virtual
More info: https://www.meetup.com/KanbanSoCal

Wednesday, November 17, 6:30 pm
Bay Agile Leadership Network - Zoom-lash! What I've learned over 800h of remote training
Location: Virtual
More info: https://www.meetup.com/BayALN
Wednesday, November 18, 4:30 pm
Agile Coffee with Vic Bonacci
Location: Virtual
More info: https://www.meetup.com/agile-coffee/

Thursday, November 19, 8:00 am
Design Sprints in La La Land - Unpacking Google's Design Sprint
Location: Virtual / Los Angles
More info: https://www.meetup.com/Design-Sprints-La-La-Land

Thursday, November 19, 11:00 am
BrainTrust webinar - What is the Real Value of Certifications?
Loaction: Virtual
More info: https://braintrustgroup.zoom.us/

Thursday, November 19, 6:00 pm
Agile Gathering - Lean Coffee
Location: Virtual
More info: https://www.meetup.com/AgileGathering/

Monday, November 23, 6:00 pm
Ministry of Testing LA - Lean Coffee
Location: Virtual
More info: https://www.meetup.com/Ministry-of-Testing-Los-Angeles

Wednesday, November 25, 4:30 pm
Agile Coffee with Vic Bonacci
Location: Virtual
More info: https://www.meetup.com/agile-coffee/

Sunday, November 29, 8:00 am
Large Scale Scrum in NYC - Case study about a LeSS adoption in ING Business Lending
Location: Virtual
More info: https://www.meetup.com/Large-Scale-Scrum-LeSS-in-NYC
Monday, November 30, 9:00 am
Large Scale Scrum in NYC - Uncovering the Agile Mindset
Location: Virtual
More info: https://www.meetup.com/Large-Scale-Scrum-LeSS-in-NYC
Monday, November 30, 5:00 pm
Scaled Agile LA - The ART of Avoiding a Train Wreck with SAFe
Location: Virtual / Los Angeles
More info: https://www.meetup.com/ScaleAgiledLA

Wednesday, December 2, 4:30 pm
Agile Coffee with Vic Bonacci
Location: Virtual
More info: https://www.meetup.com/agile-coffee/

Tuesday, December 8, 4:00 pm
PhillyXP - Five Development Practices Essential for Agile Teams
More info: https://www.meetup.com/PhillyXP

Wednesday, December 9, 6:00 pm
Scrum & Wine
Location: Virtual
More info: https://www.meetup.com/Scrum-and-Wine
Monday, December 14, 9:00 am
Coaching Agile Journeys - Lean Coffee
Location: Virtual
More info: https://www.eventbrite.com/

Tuesday, December 15, 4:00 pm
Agile Coaching Exchange SoCal - AMA with Lyssa Adkins
Location: Virtual / San Diego
more info: https://www.meetup.com/ACE-Agile-Coaching-Exchange-SoCal/

Tuesday, December 15, 4:30 pm
Agile Colorado Springs
Location: Virtual
More info: https://www.meetup.com/Agile-Colorado-Springs
Thursday, December 17, 6:00 pm
Agile Gathering - Lean Coffee
Location: Virtual
More info: https://www.meetup.com/AgileGathering/

Sunday, December 20, 8:00 am
Large Scale Scrum in NYC - Using Product Canvas in LeSS Product Definition
Location: Virtual
More info: https://www.meetup.com/Large-Scale-Scrum-LeSS-in-NYC
Wednesday, January 13, 6:00 pm
Scrum & Wine
Location: Virtual
More info: https://www.meetup.com/Scrum-and-Wine
Wednesday, March 24, 2021, 7:00 pm
Agile San Diego - March Mingle
Location: San Diego
More info: https://www.meetup.com/AgileSanDiego/

Agile SoCal is part of the Agile Alliance Community
More great groups are listed at the Scrum Alliance User Groups
Also watch for OC Product Managers, PDMA, PMI OC & PMI LA, Java / .NET user groups, & other Agile MeetUps
November 16-17
Certified Scrum Product Owner training with Rocket Nine Solutions
Location: Virtual / on-line
More info: Eventbrite

December 1-2
Certified ScrumMaster training with Vic Bonacci / Rocket Nine Solutions
Location: Virtual / on-line
More info: Eventbrite
December 7-8
Certified Agile Leader training with Scott Dunn / Rocket Nine Solutions
Location: Virtual / on-line
More info: Eventbrite

December 9-11
Certified Scrum Developer training with Paul Moore / Rocket Nine Solutions
Location: Virtual / on-line
More info: Eventbrite

November 11-17
Remote Forever Summit
Location: Virtual More info: https://remoteforeversummit.com/

November 12
All Day DevOps
Location: Virtual
More info: https://www.alldaydevops.com/

November 12-13
Agile Arizona
Location: Virtual
More info: https://agilearizona.org/

November 13
Virtual Agile Open
More info: https://www.braintrustgroup.com/events/31-virtual-agile-open

November 16-17 (evenings)
Agile Games West
Location: Virtual
More info: https://www.eventbrite.com/e/agile-games-west-online-2020-tickets-125741810139

May 10-14
Kanban Global Summit 2021
Location: San Diego
More info: https://web.cvent.com/

June 20-24, 2021
Agile Testing Days
Location: Chicago, IL
More info: https://www.agilealliance.org/agile-testing-days-usa-2020/