AgileSoCal Home > 2013 Holiday Bash
| | |
| --- | --- |
| Wow! This was definitely the event of the year! | |
The Fourth Annual
AgileSoCal Holiday Bash!
On Wednesday, December 11th, 65 agilistas from the AgileSoCal community gathered at BJ's Restaurant & Brewhouse in Irvine for this year's fabulous AgileSoCal Holiday Bash. Everyone enjoyed BJ's great food and microbrews, and our lucky door prize winners brought home Mike Cohn CSM & CSPO course registrations, agile books from Mike Cohn and Mark Layton, gift cards from Best Buy, Amazon, CPK, TJ Schmidts & Starbucks, stocking stuffed with agile stuff, and the grand prize of an Apple iPad Mini courtesy of Rally Software.
Thanks to our volunteer photographers, Craig Jones, Jim Elvidge and Bachan Anand, we were able to capture the festivities, which looked something like this: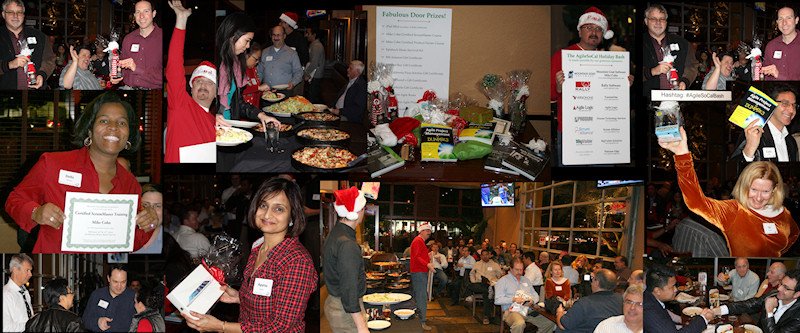 But the collage doesn't do it justice. You can see the entire collection of shots using the slide show viewer below. If you'd like full-size images of any of the photos, please contact us at agilesocal@gmail.com and we'll see what we can do.
Many thanks to all of the AgileSoCal enthusiasts that joined us, and especially to all of the sponsors below that made the event possible!
Stay tuned for our January meeting announcement. We look forward to seeing you in 2014!
Amazingly Awesome Sponsors
| | |
| --- | --- |
| | Mountain Goat Software (www.mountaingoatsoftware.com) - Mountain Goat Software and Mike Cohn help companies adopt and improve their use of agile processes including Scrum. Founder Mike Cohn is the author of three best-selling books on agile: Succeeding with Agile: Software Development Using Scrum, Agile Estimating and Planning and User Stories Applied for Agile Software Development. |
| | Rally Software (www.rallydev.com) - In a world driven by software, Rally is convinced that Agile is the fastest way to create products users love. Rally's cloud-based products and platform give companies everything they need to steer business strategy, run the development lifecycle, and expand team collaboration. |
Really Awesome Sponsors
| | |
| --- | --- |
| | VersionOne (www.versionone.com) - Today more than 50,000 teams, including over 35 of the Fortune 100, use VersionOne's products to help them scale their agile initiatives faster, easier, and smarter. Whether a small team just starting out with agile or a global enterprise, VersionOne customers get the best software tools in the industry. Agile Made Easier @VersionOne.com |
| | Agile Logic (www.agilelogic.com) - Agile Logic has been helping companies deliver better software faster since 2001. Our unique approach to coaching, training & mentoring blends the best of lean and agile to reduce risk, maximize benefits and ensure continuous improvement. Lean, Kanban, Agile, Scrum, XP - we can help! |
| | Prosum Technology Services (www.prosum.com) - Prosum Technology Services provides staffing and technology consulting solutions to clients in LA and OC. Our staffing team is comprised of 20+ experienced IT recruiters, focused on placing IT professionals with our clients for direct hire, contract, and contract to hire opportunities. |
| | The Scrum Alliance (www.scrumalliance.org) - Become part of something bigger than you alone. Scrum Alliance brings together like-minded people who dream, explore and live project management brilliance every day. A nonprofit professional organization, we provide advocacy, community and education, equip our members and help them succeed with Scrum. Come sprint with us! |
Awesome Sponsors
| | |
| --- | --- |
| | BigVisible Solutions (www.bigvisible.com) - BigVisible Solutions is a premier provider of Enterprise Agile Solutions specializing in providing coaching, training, staffing and consulting services. Our sole focus is applying Agile solutions to real-world business, product and process problems. We are committed to helping our customers achieve visible, measurable and lasting results. |
| | Platinum Edge (www.platinumedge.com) - Platinum Edge is an agile-focused team of MBAs, behavioral science experts and certified project leaders that assists companies wanting to strategically improve project ROI, and have been doing so for over 10 years. Platinum Edge helps companies deliver value faster, with fewer risks, at a lower total cost. |
AgileSoCal is your community for all things agile. Find us:
On our website at www.agilesocal.com (You are here!)
On Linked-In (group name "AgileSoCal") at www.linkedin.com/groups?gid=1833155
On Yahoo! Groups (group name "xpsocal") at tech.groups.yahoo.com/group/xpsocal/
On Twitter (timeline name "agilesocal") at twitter.com/agilesocal